PayPal return to US iGaming channels growing ever more likely, and Bitcoin wallet Coinbase tells one of its customers that online gambling in the US is illegal.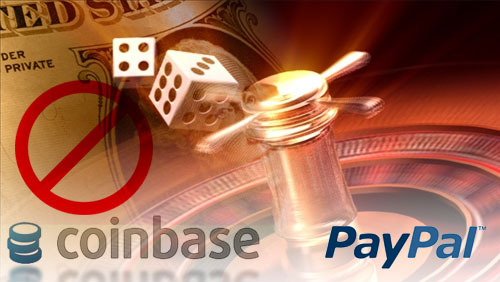 PayPal's return to the US iGaming space is looking ever more likely, and the timing couldn't be better.
Chris Grove, of OnlinePokerReport, was the first to break the news that PayPal may be eyeing a return to the regulating iGaming markets in North America, and he has been busy following up on that story this week.
The intrepid online poker wizard stated that the EGR have reported that New Jersey's Division of Gaming Enforcement (DGE) were in talks after citing a source close to the regulators.
Gambling Compliance's Research Director for North America, Chris Krafcik, also tweeted: –
#NewJersey DGE confirmed yesterday it was in licensing discussions with PayPal. #Nevada GCB said PP is not currently a license applicant.

— Chris Krafcik (@CKrafcik) August 20, 2014
PayPal have over 150 millions users, worldwide and it's estimated that a third of these reside in the land of the stars and stripes. A return to the world of US iGaming will be a considerable boost for the credibility of the business after it had oil poured over its head, and set alight, by the Newsweek reporter Leah McGrath Goodman last week, in her biased article Poker Face – How Washington Opened the Floodgates to Online Gambling.
Coinbase Says Online Gambling is Illegal in the US; Blocks Seals With Clubs Player Account
The news that PayPal is making a return to the US is great news but the payment-processing giant might also be one of the reasons that a Coinbase Bitcoin wallet holder has just had their account blocked.
A Seals with Clubs (SWC), online poker player, recently made a post on Reddit warning fellow SWC players about using Coinbase to handle Bitcoin transfers after having their account blocked after a Coinbase review.
"Gambling is illegal under US law even if you live outside of the US we cannot provide service to your account for the purpose of any type of gambling activity."
That was one of the quotes taken from e-mail sent to the worried player by Coinbase officials.
Here is another:
"Please understand that Coinbase is a regulated Money Service Business under the FinCEN division of the U.S. Treasury Department and as such, we are required to review accounts in order to ensure compliance with regulations."
The Wall Street Journal recently reported that payment firm Braintree, a subsidiary of eBay and PayPal, was in dialogue with Coinbase over the possibility of introducing Bitcoin as a payment option with their services.
The payments software was acquired by PayPal for $800 million at the back end of last year, and is linked to usage on mobile applications such as Uber, Airbnb and GitHub.
Is Coinbase getting a little worried that an affiliation with a gambling firm may impact the deal?
Watch this space.