Online payment processor Paypal may be ready to make a triumphant return to the US iGaming marketplace according to reports emanating from the Online Poker Report.
When playing online poker, what do you take for granted?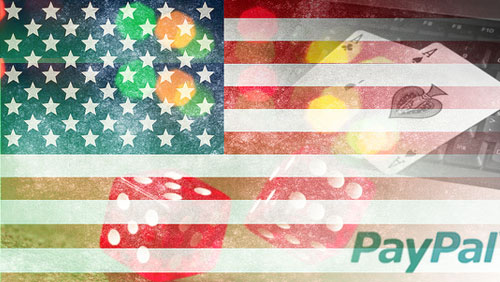 For me, it's the ease of moving money on and off the sites. I only need to press a few buttons and hey presto. My money pings from one place to another and not a single bead of sweat leaves my body.
I will not be alone in my praise of swift payment processing options, and this is why Marvin Gaye's grapevine is jingling with anticipation, after Chris Grove of the Online Poker Report revealed news that Paypal are preparing for a US comeback tour.
"Paypal plans to announce a foray into processing regulated online gambling payments in the coming months, according to a source with knowledge of the company's plans," said Grove.
With Visa and MasterCard payments still carrying a decline rate of 25 percent, and journeys to/from cash cages eating away at online poker player's life, the return of Paypal will be a breath of new air.
Paypal has over 150 million worldwide users, and it's an extremely popular method of ePayment in the US with almost every household brand offering Paypal as a payment processing option.
They are trustworthy; they are quick and they are easy.
"While we're note yet in the business of solving gridlock, we know that wherever we can shave time from the payments process for our 148 million active account holders, we're giving them back one of life's precious resources," Paypal stated in a recent study of Global Attitudes towards time, money and tech.
That particular study revealed that 70 percent of the world believes that technology should make payments simpler, connected, faster, and with more choices available. They have asked the question, and now they intend to deliver the answer.
Paypal are exactly what the US iGaming network needs and they have form. Not only were they one of the biggest US payment processors prior to the 2002 acquisition by eBay (when they withdrew from the US online gambling payments market) but also process millions of dollars for online poker rooms, sports books and casinos all over Europe.
Earlier this year Paypal dropped Iovation as a third party that they would share customer information with. The fraud prevention platform that was set up by Greg Pierson, whom you may recall created the infamous 'God Mode' that Russ Hamilton used to extract a princely sum from unsuspected online poker players plying their trade on Ultimate Bet (UB).
In June, Paypal were honored at the eGaming Review (EGR) B2B awards at The Pavilion in the Tower of London where they picked up the award for innovation in payment solutions.