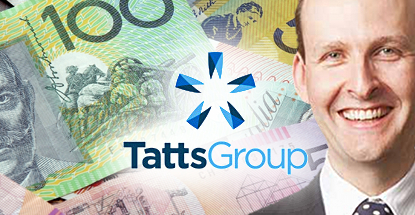 Newly rebranded Australian betting and lottery operator Tatts Group saw profit fall in fiscal 2014 but management vows that better times are ahead given its performance over the past few months. Group revenue in the 12 months ending June 30 fell 8% to $2.9b while net profit fell 19% to $200m. However, managing director Robbie Cooke (pictured) says the new fiscal year is off to a roaring start, with wagering revenue up 4%, led by a 17.8% gain in sports betting (thank you, FIFA World Cup).
Tatts says its FY14 bottom line would have been far fatter were it not for the $42.6m health levy imposed on its now discontinued pokies operations in Victoria, which were only operational for 46 days of the state's fiscal year yet were subject to the full year's levy. Tatts is appealing this ruling. By the same token, Tatts has already received the full $451.2m (plus $89.3m in interest) earned via the end of its Victorian pokies duopoly but it doesn't intend to book the sum as income until the courts rule out any further appeals by Victoria's government.
Tatts' lotteries division saw sales fall 4.3% to $1.9b due to a comparative paucity of mega-jackpots to lure in punters. Online operations accounted for 9% of lottery sales, up from 8.2% in FY13. The year saw the release of the Tatts.com lottery app, which has been downloaded 332k times.
Tatts said its wagering team had "a tough year," as wagering revenue fell 2% to $655m while earnings slipped 7.6% to $160.8m. Tote revenue was off 7.4% while fixed-odds race betting rose 16% and fixed-odds sports rose 5.4%. Retail continued to account for 68.2% of wagering while online wagers rose to 22.9% from 20.2% last year. Phone sales slipped one point to 7% of overall wagering revenue and on-course sales generated just 1.9%. Fixed-odds wagering handle rose 19.1% to $1.3b, of which nearly 80% was racing.
Tatts' gaming vertical encompasses three divisions, led by gaming venue services business Maxgaming, which operates machines in New South Wales, Queensland and the Northern Territory. Maxgaming saw revenue rise 1% to $114.2m, its first gain in four years. Bytecraft, which services gaming, lottery and banking machines across Australia, saw revenue decline 8% to $107m due to the loss of some "large but mainly unprofitable" contracts. Talarius, which operates slot machines in the UK, saw revenue rise one-third to $103.6m.
Looking forward, Tatts is expecting great things from the recently signed 30-year extension of its retail wagering and sports betting monopoly in Queensland. Tatts is also itching to unveil its new wagering website, which will provide a "seamless experience across all customer touch points." Tatts expects to implement its "nexgen" sports betting platform in the second half of the new fiscal year.
Meanwhile, Tatts is under fire following reports that it paid a five-figure sum for a face-to-face meeting with Western Australia Premier Colin Barnett and his cabinet earlier this month. The West Australian reported that Tatts is vying to add the WA TAB to its stable of former state-owned TABs, which include Queensland, South Australia, Northern Territory and Tasmania. Tatts is also keen to acquire the Lotterywest operations should the state decide to privatize that, as well. A Tatts spokesperson would say only that it welcomed all opportunities "to engage with political parties and racing industry participants across the country."
Comments