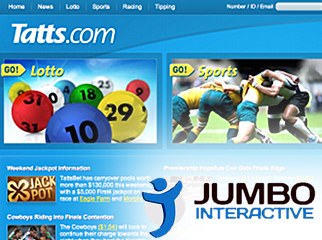 Australian betting and lottery operator Tatts Group says it needs to improve its online presence if it hopes to keep up with international competitors. On Thursday, Tatts delivered the earnings report card on its most recent fiscal year, which managing director Robbie Cooke called "outstanding." That may seem incompatible with the 20.1% drop in revenue to A$3.1b, the 16.3% drop in earnings to $544.1m and the 22.5% drop in profit to $247.3m Tatts reported over the 12 months ending June 30.
However, comparisons with the previous year are of the apples v. oranges variety, given that Tatts' highly lucrative license to operate video poker (pokies) machines in Victoria ended just 46 days into FY13. Stripping away the impact of the Victorian pokies operations, Tatts' revenue was up 11% to $2.95b, earnings rose 17.9% to $490.2m and profit rose a stellar 40.8% to $227.4m.
Tatts lotteries vertical saw revenue up 13.6% to $2.01b, thanks in part to the addition of the $427m, 40-year South Australian monopoly in December. Online lottery sales grew 35.2%, good enough for 8.2% of all lottery sales, up from 6.8% the previous year. Lottery earnings rose 33% to $269.5m, of which $24.8m came from the new SA Lotteries business.
Tatts wagering revenue rose 5.2% to $655.7m thanks to a full year's contribution from Tote Tasmania, which Tatts officially acquired in March 2012. Fixed-price wagering rose 16% to top $1b for the first time in Tatts' history, but it came at the cost of a 2% drop in par-mutuel revenue. While Tatts operates 1,260 retail points of sale and 117 race clubs, online betting revenue rose 21.5%, and online's share of overall wagering improved to 20.2% from 16.9%.
Cooke said the company was undertaking a "brand revitalization program" to align its retail, online and traditional media presence. This includes working on a redesigned Tatts.com site and new mobile apps for smartphone and tablet use to better compete with domestic and international digital competitors. Cooke said "innovation in our wagering offering will be critical to our continuing success."
Meanwhile, Tatts' online lottery partner Jumbo Interactive saw profit plunge 55% to $3m in its fiscal 2013. Revenue in the 12 months ending June 30 rose nearly 5% to $25.2m thanks to a 38% boost in ticket sales via OzLotteries.com and Jumbo's customer database growing from 1.38m to 1.57m. However, costs soared 257% due to international expansion efforts in the US, Germany and Mexico. The US joint venture with Retail Gaming Solutions has already begun signing up new customers but the latter two markets aren't expected to go live until later this year, so for the moment, it's all gristle, no gravy.