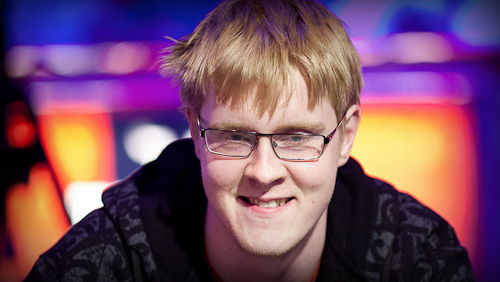 Image from GlobalPokerIndex.com
Paul vas Nunes is a 24-year old professional poker player who lives in Newbury in the UK. His modus operandi is log on to his computer at least three times a week where he churns out a living playing multi-table tournaments (MTTs).
Vas Nunes has had a number of big scores online, including recent victories in a $2k Spring Championships of Online Poker (SCOOP) event, and the PokerStars Sunday Warm Up, but he is equally adept when he plays live tournaments, with his most recent success being a victory at the Grosvenor United Kingdom  Poker Tour (GUKPT) in Reading.
1. It's been a great year for you both online and offline. What have been the main adjustments you have made to your life/game, or is it just variance giving you your five minutes of fame?
I was very slow to start using a HUD and only started doing so and learning how to use it effectively last year. It has helped me to notice the smaller things that I have missed in the past, so I've been able to adjust to certain opponents better, and also notice where some might be abusing tendencies I have.
I've started watching more training videos too, but I think it also helps to simply not be on a downswing. When you are on a downswing you start to think that you aren't doing things right, when it could simply be variance, so having confidence helps.
For example you feel good about firing the third barrel instead of assuming they have "it" and checking back. Previously, I wasn't game selecting very well, and was playing all of the $100+ tournaments online during the time frames I was playing, but now I've decided I don't want to find out if I have a 5% ROI in a $109 Double Chance Turbo on a Tuesday. Of course a lot of this year's success is purely variance because if I hadn't played on the days that I won these three big tournaments (Sunday Warm up, $2k SCOOP and GUKPT Reading) then I would be down six-figures, this year, instead of up.
2. Going back to the beginning of your career, can you describe the first big moment for you?
When I was 18-20 years of age I would go through phases of playing large amounts of online poker or not very much. This would be depositing $50, and then either losing it or making a few hundred, withdraw it and then play too high and go busto – just like most people starting out.
I always felt that I played quite well, and used to watch a lot of poker TV shows. So in the summer holiday, after my second year of university, about four-years ago, I decided I didn't want to get a job; so I put my last $200 on PokerStars with the intention of grinding whatever I thought I couldn't bust my roll playing.
So I was playing MTTs <$10 and satellites to the Sunday Million and Warm Up. Back then it seemed everyone was playing the 2x and 3x turbo sats really poorly. I probably wasn't playing them that well either, but in that first week I won 14 of them, with about a 50% ROI. I also final tabled an $8 MTT for a few hundred dollars and thought I was going to make it!
I was unregistering any seats that I won, until I won the deadline satellite to the Sunday Million and then I just continued the heater I was on and I won it outright with no chop!
I felt I learnt quite a few things during that tournament, but really I probably just got incredibly lucky because I had so little experience playing anything over a $50 buy in.
3. Taking your career as a whole what has been your most memorable achievement and why?
I think my most memorable achievement would be winning the Sunday $500 after a chop. I was in Riga playing the Unibet Open because I had won the one in Dublin in that series and had a small chance of topping the leaderboard, which was worth quite a bit of money.
I busted on Day 1 and played very little poker after that. Then I decided to grind online on the Sunday evening before my flight home Monday morning. I was playing on my girlfriend's MacBook, laying in bed and as I got deeper and deeper it got closer and closer to when my flight was. I had no sleep, was stressed about missing a flight (I didn't care that it would be an insignificant amount compared to winning this tournament) and playing without a mouse on a small MacBook and everything just seemed to go right in the end. My opponent offered to do a chop when we got HU and then we just flipped for the remaining $5k so that I could get a taxi to the airport in time, which I just managed!
4. What has been your biggest disappointment?
My biggest poker disappointment would be coming third in a $3k WSOP event. It seems very selfish to say that, seeing as I won $290k but first was about $450k extra. I regret taking some of the over aggressive lines three-handed because I think I was much less aware of ICM back then.
When I flipped for a chip lead stack three-handed, even though I was a 60:40 favorite I was throwing money away, so I regret that even though I know how lucky I was to get that far in the first place, especially since I had only got off the plane the day before the tournament started.
I feel that some of my achievements early on were overlooked compared to other pros, who I felt had achieved less than I had, but looking back on it I really wouldn't have wanted much fame because I am normally quite happy to keep to myself and just focus on playing cards.
5. What's your opinion on the state of poker in the UK? There were fewer players at the WSOP this year for example.
I am not particularly involved in the UK poker scene. There are only a few British players I talk to so I can't really comment on the lack of players at the WSOP for example.
I think the  seven-week or so grind does take a lot out of people, including me last year when I did it with little success. There are usually two NLHE tournaments worth playing every single day and it can be hard to find any balance whilst there.
With the Millionaire Maker and the Monster Stack, at opposite ends of the schedule, I imagine it would be hard to choose when to turn up – at the beginning or at the end? I only went about two-weeks before the ME this year because I have been very busy over here. From what I can tell though, the smaller stakes live MTTs have been doing quite well in the UK recently (£200-£500 range).
I think this GUKPT was only my first or second tournament in the UK this year though because the EPT schedule has been much more tempting to me. I feel if I have to travel, and get a hotel, then I need to make up that money in expected winnings. This means travelling to a €5k event, and EPT festival, is better than travelling to a £250 event with no decent sides, even with the difference in skills at the two.
I think a lot of pros are seeing that the games are getting tougher and are getting out while the gaps on their resumes aren't insurmountable, which could be a wise thing to do. I hope to have saved enough money that if I find I can't beat the games, for a good living any more, I can find something else to do.
6. What's your opinion on backing/staking? How does it affect decision making at the table or any other dynamics?
I think backing is a necessary part of the current game. With the variance involved in large field MTTs it can be hard to be properly rolled for some of the better value tournaments such as the Sunday Million.
I will always try to play my game, whether I've sold action for the tournament or not. It would probably affect me more to have the added pressure of playing for too large a % of my bankroll to be honest.
I think backers need to do more to make sure that the players they back are actually profitable, otherwise it can lead to a lot of difficulties for the player and backer. I haven't ever been personally involved in these situations, on either side, but have read about a lot of them on 2+2.
I think big tournaments would have half the numbers, or even less, if nobody was backed, or to a lesser extent swapped action. It tends to be just the super successful, or the amateurs with other income sources, who have 100% of themselves in most of the bigger buy in tourneys.
7. What is your view on the Dan Colman ONE DROP situation?
I don't want to talk too much about the Dan Colman ONE DROP situation because I think it's impossible to have all of the information to have an informed opinion. He clearly feels very strongly about it and his 2+2 post on the topic seemed to make a lot of sense.
At the end of the day he is playing for the money, and not to be famous, and if he feels it will be harmful to a lot of people to promote the game in a way that makes it seem like anyone can win millions, then I think he has every right to act how he did.
8. What does your life look like?
I am engaged to my girlfriend from university. We met while she was doing her masters here, coming from China. I spend about six-weeks of the year in China, with her family, and the rest of the time we live together in Newbury. We spent last year travelling to most of the big poker festivals around the world together, including many EPTs, the PCA, Aussie Millions and the whole WSOP
I used to play quite a bit of squash and am hoping to get back into that when I have more time. It feels like I never have time to do much of anything, even though I only play poker around three days a week.
We have been spending quite a bit of time planning our wedding for next year, and also a trip to China, where we will be having a celebration there. I enjoy doing most normal things 24-yr olds do, such as going to the cinema, spending time with friends and going out. I just have an abnormal job compared to most people in my age group.
9. Who surrounds you?
It is mostly just my fiancée and I, but I am close to my immediate family, and see them fairly regularly, although they probably don't think so!
10. Give me your three most important values and why?
I think honesty is the most important value to have. This seems to be especially important in the world of poker, but I think it's important in general. People can make progress through being dishonest but I think the damage this does to your reputation is never worth it.
Always be proactive about paying debts. Along the same lines as being honest, everyone has had to borrow money from a friend, for whatever reason, but I believe if I have to ask for the money back then the person was never really a friend in the first place. I would also recommend that people avoid lending money to people in general because it is the easiest way to lose a "friend".
Never make idle threats/promises you can't keep. This can destroy your reputation and if you ever have a dispute it will be more likely to go in your favor if your reputation is a good one. I think fairness is also important.
11. How would those closest to you describe you?
I think most people who know me would say I'm very down to earth and don't let things rattle me easily. I am very logical and reserved until I get to know someone. I treat everyday life like a poker game and am not often results orientated.
12. What do you want to achieve in life during the next 12-months?
I am looking forward to getting married and I hope to be settled down in the new town we are living in at the moment, and to get back to playing some squash regularly.
I want to end this year without losing too much during WCOOP and to still enjoy playing poker.
13. If you could change one passage of time/moment/incident in your life what would it be and why?
I would change how I treated my studies at university and would take it more seriously, and finish my degree, because I have been very fortunate for poker to turn out how it has and should have something to fall back on. Obviously I would also fold in all of the big hands I called and lost in!
14. What are your biggest challenges in life?
My biggest challenge is managing my type 1 Diabetes with my varied lifestyle. It can be very hard to keep my blood sugar balanced at all times while playing, especially if I don't know how long I will be playing for. If I can't keep my sugar levels in a good range then it affects my thinking, which in turn costs me money.
15. What is your worst habit you have when playing online?
If my table count has dropped low I can lose focus and will watch a TV show in the background and I am dependent on food being brought to me! Constantly browsing Internet sites and other distractions instead of 100% concentration.
16. Name five things you have done in your hourly five-minute break
1. I've ran out in the rain to bring the laundry in
2. I phoned my car insurance to haggle over a renewal quote
3. Scared a cat away while it was squatting on my lawn
4. Given a decorator a five-min tour whilst outlining his job.
5. Answered these questions!