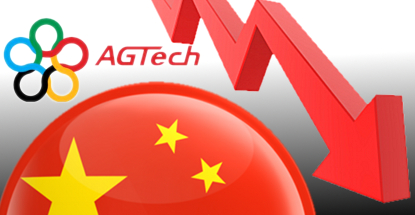 Asian lottery technology provider AGTech Holdings Ltd. experienced a serious drop in second quarter revenue despite the positive influence of the 2014 FFIA World Cup on China's sports lottery. In the three months ending June 30, AGTech revenue fell by more than a quarter to HKD 43.7m (US $5.6m) while rising share-based payments to directors and costs associated with ongoing restructuring efforts resulted in a net loss of HKD 42.9m ($5.5m).
AGTech, the main provider of lottery terminals to China's Sports Lottery Administration Center, blamed the revenue decrease on lower like-for-like hardware sales in the AGTech GOT Technology Co. division and the April 2013 expiration of Lottery Management contracts as the company transitions to more of a gaming technology supplier. But the primary culprit was the HKD 35m in share-based payments to directors, eligible employees and other eligible participants in the company's Share Option Scheme.
The company is pinning its future growth hopes on its Lucky Racing virtual racing game, a majority-owned joint venture with UK bookies Ladbrokes. Growth in such high-frequency games has slowed of late but AGTech hopes that Lucky Racing's anticipated rollout in provinces other than Hunan will add some much needed oomph to revenues. AGTech also hopes its virtual sports lottery game e-Ball, which launched in Jiangsu province in November 2013, will get the nod to launch in other provinces, possibly even nationwide.
AGTech hopes to be among the lucky firms granted the right to join 500.com in providing online and mobile lottery products. AGTech also expects GOT will capitalize on the anticipated terminal replacement cycle as well as broadening its product range to include video lottery terminals. AGTech is also exploring "a potentially exciting acquisition opportunity in China."
Meanwhile, the Shenzhen-based Nasdaq-listed 500.com saw its stock beaten up by shareholders convinced that the firm's performance will plummet now that the World Cup is through. Investors drove the stock price down 5% shortly after the company reported stellar Q2 earnings, but cooler heads have since prevailed and the stock has regained some of that ground. Apparently, someone realized that China's overall lottery market has only just begun to be exploited, making the long-term future blindingly bright for anyone lucky enough to have received state blessing to tap this motherlode.
Comments