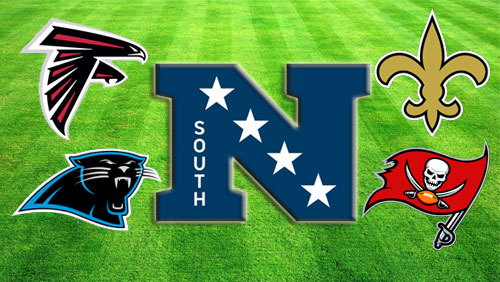 Many people believe that the NFC South will be pretty competitive this season. I tend to agree except that I think the New Orleans Saints will still win the division handily. On both sides of the ball, the Saints are better than any team in this division with the possible exception of the Carolina defense and that's a razor-thin difference between those two outfits. On offense, nobody's going to be able to hang with Drew Brees and that juggernaut Saints offense. If everything breaks into place, Cam Newton could have something to say about the Panthers chances but I'm not confident in his ability to mesh quickly with a completely overhauled receiving corps.
Are we overrating the New Orleans Saints?
I'm going to make an admission here. I'm a card-carrying member of Who Dat Nation so forgive me if I'm a little biased about the New Orleans Saints. That being said, it's still reasonable to ask the above question because it seems that everybody's riding the Saints bandwagon this early in the season. Its title odds fell from 18/1 to 14/1 about as quickly as a Drew Brees 80-yard bomb to Jimmy Graham. That kind of thing doesn't happen without a valid reason. Entering the year, New Orleans is arguably the most balanced team in the NFL, thanks to a defense that has dramatically improved under defensive coordinator Rob Ryan. Last season, it finished fourth in overall a defense a year after it was one of the worst outfits in the league. The addition of Jairus Byrd and the emergence of Kenny Vaccaro should give them one of the best safety tandems in the league. Combine that with an unheralded front seven and they have the makings of another stellar year. On the other side of the ball, well, I don't really need to gush over the high-powered Saints offense. They may have lost Darren Sproles but they made up for it with rookie Brandin Cooks, a guy who should be getting some strong looks for Offensive Rookie of the Year at 8/1 odds. I fully expect New Orleans to be better than the 11-win team last year. I swear to God this isn't the homer in me talking. Or maybe it is.
Can Cam Newton take the superstar leap for Carolina?
He needs to if Carolina hopes to replicate their success last year. As much as I love the Panthers defense and the fact that they should be able to continue to be dominant this season, there are serious questions on the other side of the ball that need answers. What do you make of the revamped receiving corps that lost Steve Smith, Brandon LaFell, Ted Ginn Jr. and Domenik Hixon. The Panthers added Jason Avant, Jerricho Cotchery, Tiquan Underwood and Ed Dickson but none of those guys are the type to come in and become difference-makers immediately. That's where Cam comes in. If the Panthers have any chance of repeating as NFC North champs, he's going to have to elevate his game more. He's shown that he's capable of doing it after turning in his best season last year. But expectations are higher with the success they've earned. I'm just not sure that defense, which in fairness can be pretty dominant, can carry this team, especially if Newton and his new receivers take a while to get their groove going.
Which Atlanta Falcons team will see this season?
The Atlanta Falcons and the Houston Texans shared a lot of things in common the last two years. They both went from Super Bowl hopefuls to cellar dwellers, largely because of injury but more so because of a stunning drop in competency from people you expected to be better than they showed. Falcons QB Matt Ryan should be better than he was last season and Roddy White and Julio Jones should be back from their injury-plagued seasons. If all three are healthy and back up to their capabilities, the Falcons should be much better than the 4-win team last year. But even with Ryan, White and Jones clicking on all cylinders, there are bigger concerns in Atlanta. The offensive line still needs some work and the defense was downright awful last year, finishing as the fifth-worst defense in the entire league. A lack of meaningful upgrades on that side of the ball could spell doom for the Falcons because they're going to rely on the offense to carry the load. I'm just not sure that even with White and Jones, Ryan won't have the luxury of his safety blanket to throw to. Last I checked, Tony Gonzales is now doing analysis on The NFL Today.
Will Lovie Smith be a difference maker as the new head coach of the Tampa Bay Bucs?
I think he will be but not this season. Let's face it. Smith inherited a deeply flawed Bucs team that has the offensive-defensive balance of a drunken chimpanzee. There are many holes on both sides of the ball, beginning at quarterback where Josh McCown is the incumbent starter. I like McCown as a backup but not a starter. He's probably in place there as a transitional quarterback more than anything else and immediately, the expectations aren't as high as they could've been if a more established signal-caller was under center. Doug Martin's a great piece to have but will he be as good without star guard Carl Nicks opening up holes for him in the middle of the field? Even the defense lost many personnel, making it even more difficult for Smith to implement his system on what has become a revolving door of players in the past few seasons. I believe Smith will turn the Bucs into a better team. However, it won't happen in the space of one season. Look for the Bucs to continue trending up but it won't be as fast as most people expect.
Win Totals
The New Orleans Saints have the highest win total line at 9.5 wins. That looks more and more like a confident overplay with each passing day. Somehow, even the 8 wins for the Carolina Panthers looks like an easy bet. But here's the thing: I think only one team will hit the over and it's going to be New Orleans. The Saints are one of the best teams in the league in the past five seasons. They even have a Super Bowl title to show for it—that's a continuity you can't replicate.
On the other hand, the Panthers just broke into the scene last season so it's hard for me to be confident of their chances to replicate that success unless I see it for myself. Maybe Carolina can get to 9 wins, but that's my top number for them. Besides, does it worry you that the Falcons have a higher win total line at 8.5 wins? That's a red flag for Carolina if there ever was one.
Speaking of the Falcons, I also don't see them hitting the over in that total. That defense has to dramatically improve and even if Ryan and his receivers are playing well, don't underestimate the devastating loss of Tony Gonzales. Give me Atlanta to win 7 or 8 games.
Finally, the Tampa Bay Bucs at 7.5 wins also looks rather inflated. Sure, they were competitive in many of their losses last season but the fact is, they still lost those games. With a new regime and a starting quarterback that's fit to be a reserve leading the way, I don't have high expectations for Tampa Bay. They could possibly get to 6 or 7 wins if the cards fall in their favor. Nevertheless, anything more than that seems like it's asking too much too soon from these guys.
To Win Division
New Orleans getting a little more than even odds (11/10) looks like another good bet, and I'm not afraid to admit that I'm contemplating taking it. Besides, there's something I don't like about the Panthers and Falcons getting 11/4 odds apiece to win the NFC South. Something about those odds look inflated, especially with the questions I have on both teams. On the other hand, Tampa Bay at 13/2 odds looks woefully low relative to how I see the team faring. I expected the Bucs' odds to be somewhere close to double digits, possibly around 12/1 or 14/1. The fact that it's half of those numbers makes me think if there are some people overestimating the Smith-McCown partnership.
Title Odds
The Saints are currently 14/1 odds to win the Super Bowl. Those are pretty good odds that I think will fall once the season starts. Now, if you're buying stock of New Orleans, now's the time to do so. Meanwhile, the Carolina Panthers have dropped significantly to 33/1, around the same odds given to the Atlanta Falcons. Are those Panthers odds good for a small, hope-it-cashes-in bet? It seems like it and I can't fault anybody for taking that course. I just think it's going to come up empty sooner than most people realize. Finally, the Buccaneers at 50/1 odds to win the Super Bowl is already looking like a wasted bet this early in the year.
Predicted Order of Finish
The Saints should have no trouble winning the NFC South if it can remain healthy. Carolina can give them a run for their money but that's probably the ceiling I have for the Panthers. Atlanta has the pieces on one side of the ball but I'm worried that its defense won't even be able to stop a nosebleed if they had to. Tampa Bay is rebuilding, which doesn't really invite a lot of confidence within betting circles.
1. New Orleans
2. Carolina
3. Atlanta
4. Tampa Bay