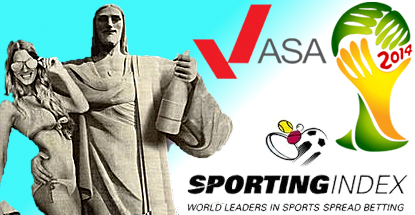 There really was only one major marketing idea for the 2014 FIFA World Cup, we guess. Sporting Index, the UK-based sports spread betting specialists, have earned the ire of the UK's Advertising Standards Authority (ASA) over their recent World Cup advert. The print ad, which appeared in both City AM and the Racing Post, featured a stylized version of Rio de Janeiro's iconic Christ the Redeemer statue, except in the ad one of his outstretched arms was holding a bottle of champagne while the other was clutching the hips of a scantily clad female model. Notably, the statue's dour facial expression had been replaced with a particularly self-satisfied grin.
The ASA received 25 complaints about the ad, all of which mentioned blasphemy in some shape or fashion, while the ASA focused on whether the ad "linked gambling with sexual success." Sporting Index argued that the statue was frequently used to promote Rio as a tourism destination and therefore the image had transcended its original religious identity. City AM defended running the ad on the basis that its readers were "broadminded, diverse and had a lively sense of humor."
To which the ASA replied, we hope it's still funny in HELL. The ASA bought the argument that the statue was a noted Rio landmark but believed the fact that Christ appeared to be fondling "a largely undressed woman" while necking a bottle of champers and "apparently celebrating a gambling win" was likely to make Christians hot under their stiff white collars. The turn of the woman's hips "implied a degree of flirtatiousness and sexual contact" that wasn't diminished by the "cartoon-like" quality employed by Sporting Index's graphic artists.
The ASA ordered Sporting Index to refrain from running the ad again in its current form, which, considering the tourney's been over for nearly a month now, seems a particularly good bet. The ASA also ordered Sporting Index to pay closer attention to linking gambling & boozing deities with sexual success in future ads.