PokerNews introduce a live set of HUD like statistics at the World Series of Poker (WSOP) Main prompting Lee Davy to ask the question: is it a good or bad idea?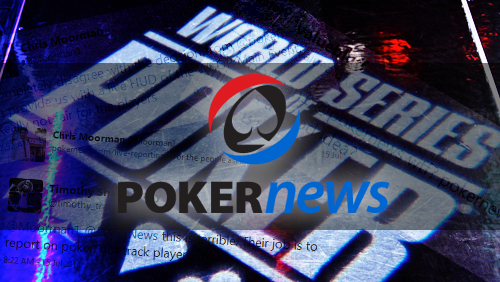 Where did you watch the World Cup this year?
I had the misfortune of watching it in America. A land where football soccer is pitched somewhere alongside Tiddlywinks and Battleships when it comes to the popularity of the game.
The one thing I will say about the Americans coverage of football is they do love their stats. Endless reams of drivel that no serious fan could care less about.
The funniest moment for me was after the USA v Belgium game. Tim Howard had just had his heart ripped out of his chest, after their crushing defeat, and during interview he was told that he had broken some 'goal saving' record and was handed a man of the match trophy. I thought he was going to smash it over the interviewers head.
So when PokerNews decided to incorporate some statistics into their coverage of the WSOP Main Event it didn't come as a surprise, but the outpouring of complaints on Twitter did.
If you are unaware of what happened let me summarize. When the action got down to just a few tables, PokerNews reporters started to record HUD like statistics on each player and then broadcast them at the end of each break.
As a fan of poker, and a follower of the Main Event coverage, I thought it was a great idea. Pokernews's coverage of the 45th Annual WSOP has been the best I have ever seen. Barely a hand was played that I didn't know about, and for me, the extra statistical evidence gave me another insight into the goings on at the table.
But not all players shared my view.
One of the first critics to air his concern on Twitter was Chris Moorman.
Completely disagree with the decision from @pokernews to provide us with a live HUD of the WSOP Main Event. Really not fair for the players

— Chris Moorman (@Moorman1) July 14, 2014
So why does Moorman believe it's unfair to the players? "I'm not a fan of HUD's in general as I believe it takes away a lot of pureness of the game. A huge part of being successful in live tournament poker is making reads on how your opponents are playing on the fly. Also, they only made the main feature table stats available at first. Therefore if a player moved from the secondary table during this time they would have a lot of information on their new table, whereas some of the feature table would never have played versus the player at all, giving the new player a significant edge. I feel introducing a HUD is a step too far, and not good for the game." Said Moorman. It seems Moorman was not alone in his belief that this was not good for the game.
@Moorman1 @PokerNews this is terrible. Their job is to report on poker, not track players stats

— Timothy Shane Tracy (@timothy_tracy) July 15, 2014
@Moorman1 @pokernews wtf? pokernews… who thought this was a good idea?

— valuebluff (@valuebluff) July 15, 2014
Former Poker Players Championship (PPC) winner, Matt Ashton, also agrees with some of Moorman's comments. Ashton also pointed out that compiling stats on just one table creates an unbalanced edge, but he had other concerns also.
"It's taking a large part of some of the skills of live poker away. Taking in what's happening to try and figure out how other people are playing is a much harder, and interesting task when you play live, and introducing these stats reduces this."
Another issue that a few players had was how this information would be used, and by what types of players. Chris Moorman believed strongly that the professional players would be able to exploit this more than the amateurs, Matt Ashton reiterated that point, as did the GUKPT winner Rhys Jones, who also stated that it would help the pros as most amateurs wouldn't know how to use the data to their advantage.
I reached out to Matthew Parvis and Donnie Peters, from PokerNews, to ascertain their opinion, and it runs contrary to that of the players.
"I think we are seeing more and more data in reporting across all sports," says Parvis before continuing, "With the Main Event we try to add a layer of detail for our audience. It's not easy to track every table the way the team did over the final two days, so I wouldn't expect to see it regularly. That being said, I think it's great to see the type of detail that can be found online used in the coverage of a live event."
Peters had a similar point of view.
"At PokerNews we are always looking to add an extra layer of coverage for our audience, whether that be simple addition of photos and videos to our live reporting, or more advanced techniques such as live streams, hand-for-hand coverage, real-time chip counts, and various statistics of play.
"We're constantly seeing more and more data being used in event coverage across all mediums, be it poker, sports, news, video games, elections, or something else, and it's great to see this type of detail used in the coverage of a live event. With such a highly-intelligent audience following along, it only makes sense that we match that in our coverage."
I think this is one aspect of the game that isn't going to bow down to player power. Whilst the players are perhaps correct that it does water down the pureness of the game, and hand a significant edge to the pros, I think we will see more of this type of statistical data included in live reporting, and this is something that the pros also understand.
All three of the people I spoke to (Moorman, Jones and Ashton) were all very appreciative of the work that the PokerNews crew had done during the WSOP and wanted to extend their thanks. They also understood why they had made the decision to move towards this approach, from a media perspective, but just couldn't agree with it from the point of view of the man under the microscope.
So that's their opinion.
What's yours?