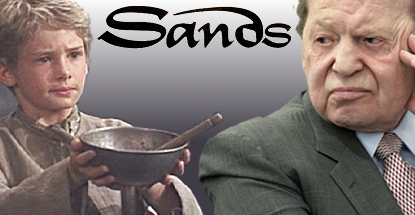 Casino operator Las Vegas Sands posted a profit of $671.4m in the second quarter of 2014, a gain of 27% over the same period last year. But over two-thirds of a billion dollars was below analysts' estimates, as was the apparently paltry 11.8% increase in Q2 revenue to $3.62b. Fickle investors responded with alarm, pushing the stock down 2% in after-hours trading. Seriously, Caesars Entertainment should have such problems.
On the post-earnings analyst call, Sands chairman Sheldon 'yay, dividends' Adelson was quick to remind everyone that "one month or quarter doesn't make a trend," so stop freaking out about one World Cup hiccup already. 'Nothing is going to change in Macau." Sands welcomed nearly 17m visits to its Macau properties in the three months ending June 30, which led to a record $801.3m (+21.9%) in adjusted earnings. But analysts were apparently more interested in fretting over the $29m in "14th month" bonuses Sands had given its Macau casino employees, the absence of which would have pushed Sands earnings up three cents per share.
KICKING (M)ASS
As usual, Sands China earned the bulk of the company's revenue ($2.38b, +15%) and profits ($620m, +27.2%). The Venetian Macao generated revenue of $1.03b (+15.4%), followed by Sands Cotai Central's $785m (+34.4%), Sands Macao's $313m (+6.2%) while the Four Seasons Hotel Macao and Plaza Casino brought up the rear with $228m (-16.6%).
In terms of dramatic movements, the mass market gambling sector owned the headlines. Mass market table drop at Venetian Macao was up 40.2% to $2.2b while VIP rolling chip volume rose a mere 4.2% to $12.3b. However, VIP win rate was a stellar 3.45%, above both the normal range and last year's figure, while mass win rate fell 2.5 points to 25.7%.
This scenario was repeated at Sands Cotai Central, where mass table drop rose 53.2% to a record $1.9b while VIP volume fell 13.5% to $12.4b. The Four Seasons saw VIP volume slump 43.2% to $5.6b while mass market drop nearly doubled to $367m. Sands Macao's VIPs gambled 20.1% less chips while the mass tables gained 31.4%.
Slots handle showed good gains at the Venetian Macao ($1.3b, +17.1%), Sands Cotai Central ($2b, +57.4%) and Sands Macao ($832m, +30.6%), while handle at the Four Seasons bucked the trend, falling 6.4% to $170m. Hotel room occupancy was up across the board, with Sands Cotai rising 17.4 points to 85%, Venetian Macao up 1.7 points to 89%, Four Seasons up 5 points to 86% and Sands Macao up 3.5 points to 98.5%.
SINGAPORE, USA
The Marina Bay Sands integrated resort in Singapore reported revenue up 8.8% to $805m. VIP chip volume fell 27.3% to $10.4b but win was up nearly a full point to an impressive 3.45%. The mass market tables showed a rare weakness, with drop falling 5% to $1.1b, only partially offset by a 1.4 point gain in win to 24.8%. Slots handle rose 12% to $3b. The properties' 2,500+ hotel rooms saw occupancy slip 0.3 points to 99.1%.
Sands' properties in Nevada, the Venetian Las Vegas and the Palazzo, reported revenue up 2.1% to $353.1m as table drop fell 20.2% and slots handle eked out a 1.7% gain. Occupancy fell 1.5 points to 90.1%. Sands Bethlehem in Pennsylvania saw net revenue fall 0.6% to $126.1m, thanks mainly to a 3.5% drop in slots volume. To put things in perspective, Sands Bethlehem's revenue was only $7.8m more than Sands' Asian retail mall operations brought in.