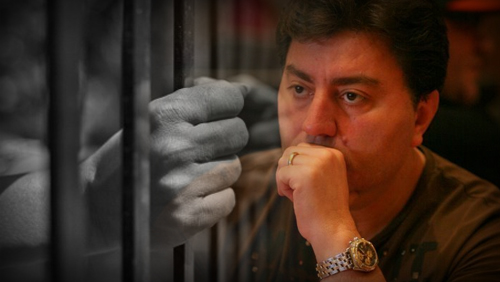 Cheating poker player Ali Tekintamgac has finally received his comeuppance after being sentenced to three years and five months in a German jail.
So it's true.
Cheaters never prosper.
Rather than learn the art of the game, like most of his illustrious compatriots, the German player Ali Tekintamgac decided to cheat his way to the top, and four years later it seems to have bitten him on the arse.
Tekintamgac has been sentenced to three years and five months in prison, after being found guilty of five counts of fraud during a trial at Augsburg District Court.
Amongst his wrong doings is the infamous 2010 Partouche Poker Tour (PPT) cheating scandal where he used bloggers to signal to him the exact hole cards that his opponents were holding. Tekintamgac made the final table of the PPT but didn't take his seat after being found guilty of cheating.
The cheat was arrested in September, on charges of running an international live poker-cheating ring, and amongst his accomplices was Kadir Karabulut, who has been missing since March, 4 2013.
Karabulut's car was found near Augsburg back in April where it contained numerous electronic devices, created to cheat in live card games but there was no sign of Karabulut. In 2011, Karabulut was banned from a €1,500 event at the Holland Casino Dom Classic after it was alleged that bloggers were helping him to cheat during the event.
It's unsure whether Karabulut has gone to ground because of his crimes or has become a victim of crime himself.