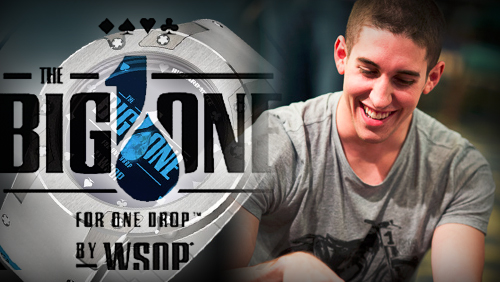 WSOP Day 35 Recap sees Daniel Colman defeat Daniel Negreanu to become the winner of the second BIG ONE for ONE DROP and take away over $15 million in the process.
In one fell swoop, Daniel Colman has now won more live tournament dollars than Phil Hellmuth Jr. after pinching the first prize of $15,306,668 from under the noses of one of the most talented players the world has ever seen.
Colman is a rising star, of that there is no doubt, but when he got heads-up against Daniel Negreanu—as good as he is at heads-up poker—you sensed that the momentum of the universe was with the man who is like no other in this business.
Negreanu took a slight lead into the heads-up phase of the second largest tournament in the history of the game but a full house on the river for Colman, in a critical hand, handed the advantage to the online wizard and he never relinquished it.
It's difficult for Negreanu to be disappointed but his professional pride will be. But just to soothe that ache will be the knowledge that he has just won $8,288,001 in prize money, an amount that now elevates him to the top of the all-time money list with over $29 million in lifetime earnings.
Is this going to be the last we see of the BIG ONE for ONE DROP?
PokerNews reporter Frank Op de Woerd managed to grab a few words with Haralabos Voulgaris, who seemed to have a piece of Colman's action and he believed it would be difficult to see this type of format continuing, just because of the sheer financial burden that it presents for players trying to raise enough capital to play.
I happen to agree with that, which makes Colman's victory even more timely, as it might be a long time before we see anybody winning that much money, in a single event, for quite sometime.
Lest we not also forget that Colman shipped the $2,127,398 in the final of the €100,000 Super High Roller at EPT Monte Carlo earlier in the year. Now that's a kid who eats three-shredded wheat for breakfast of that I am sure.
Final Table Standings
1st. Daniel Colman – $15,306,668
2nd. Daniel Negreanu – $8,288,001
3rd. Christoph Vogelsand – $4,480,001
4th. Rick Salomon – $2,800,000
5th. Tobias Reinkemeier – $2,053,334
6th. Scott Seiver – $1,680,000
7th. Paul Newey – $1,418,667
8th. Cary Katz – $1,306,667
9th. Tom Hall – $0