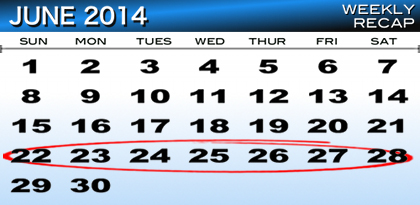 THE AMERICAS
The Supreme Court declined to hear New Jersey's sports betting appeal but state legislators passed new legislation to repeal the state's sports bet prohibitions at casinos and racetracks; Caesars Entertainment announced it would close Atlantic City's Showboat casino while Caesars' creditors continued to push for the company's default; a court ruled Massachusetts voters will get to decide whether to repeal the state's casino law this November; Antigua's new prime minister vowed to take a more aggressive stance in the WTO dispute with the US; Nevada casinos got a healthy baccarat bump in May; Rebecca Liggero previewed tribal gaming aspects of the upcoming GIGSE 2014 confab and Lee Davy recapped the latest doings at the 2014 World Series of Poker while wrangling interviews with Samuel Chartier, Jake Cody, George Danzer, James Dempsey, Phil Galfond, Dan Heimiller, Jamie Kerstetter, Brian Rast, Roberto Romanello, Mike Sexton and David Vamplew.
EUROPE
Rumors flew that Bwin.party had hired Deutsche Bank to help decide which assets to sell off as its stock hit historic lows; 888poker terminated its sponsorship of Luis Suarez following the World Cup biting incident while Tom Galanis pondered the inherent risks of celebrity endorsements; Marathonbet and Fun88 announced new sponsorship deals with Premier League clubs; Poland lowered barriers for online sports betting operators; Rebecca Liggero discussed social gaming innovation with Probability CEO Charles Cohen and push notification technology with Element Wave CEO Dorothy Creaven while recapping the highlights of the iGaming Super Show in Amsterdam.
ASIA
Tatts Group won a $451m judgment from the Australian state of Victora over its terminated pokies contract and extended its Queenland betting monopoly another 30 years; Las Vegas Sands sued some Asian online gambling sites for trademark infringement; China's sports lottery nearly doubled its 2010 World Cup sales in just nine days, while China told insurance companies to stop offering 'World Cup regret' policies; Macau said it would let casino jewelry shops keep using their UnionPay card terminals; Thai gamblers returned to Cambodian border casinos but too late to keep Entertainment Gaming Asia from selling Dreamworld Pailin; Malaysian authorities made their biggest World Cup betting arrest of the 2014 contest; Cambodia announced it was considering regulating online sports betting; Echo Entertainment said its annual financial report card would be a stunner while teaming up with two Chinese firms on a bid for a new Queensland casino license; Bloomberry Resorts' Solaire casino got its name on an Airbus 320 and Bodog revolutionized live dealer blackjack with the launch of Zone21.