Phil Galfond: RunItOnce or IveyPoker? Audio
Lee Davy sits down with one of the sharpest minds in the game, Phil Galfond, to talk about online poker training sites.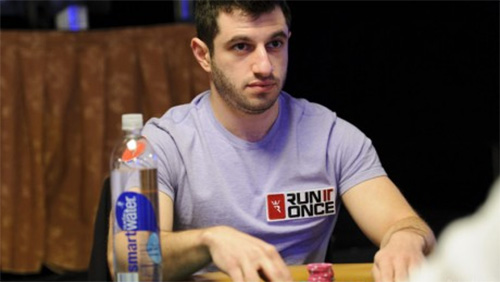 Phil Galfond is one of the very few poker players that seems to be widely respected at all levels, and when you meet him you understand why in a heart beat.
He is immaculate in so many ways, and I doubt an errant word ever escapes his mouth. I can almost hear his brain ticking as he ponders questions, and delivers the perfect answers.
I first heard about him when he was working at BlueFirePoker and I fell in love with his videos instantly. It wasn't his skill on the tables that turned me on; it was his coaching style.
I don't believe the modern online poker training site has advanced much since the early days. Yes, the roster of pros has gotten more impressive, the technical aspects of the game that are being discussed are deeper than ever, but what about the innovation?
I want to see something a little different.
I don't want to spend $100 per month on a subscription fee where I watch a video of a pro four tabling tournaments whilst he hurriedly tries to talk me through his thought process.
I want a little bit more, and this is what I grabbed hold of Phil Galfond to talk about. But, before we get to online training sites. I want to know why we are progressively seeing more of Galfond at each World Series?
"I am enjoying it. For some reason I used to find tournaments more frustrating, and stressful, and now I find them relaxing. You are here for a couple of months, during the WSOP, with all these tournaments running, so why not play them if you are having fun?
"In the past couple of years the cash games have been awful, and that's why last year I played more tournaments. That was what I was expecting this year, so I was planning to play more tournaments, but there are a lot of cash games running…I don't know…I'm just enjoying myself."
Should I choose IveyPoker or RunItOnce?
"First of all, I am a firm believer that if you are playing full time, you should be a member of multiple training sites. I am a member of IveyPoker and I get to watch the RunItOnce videos for free.
"I would just ask people to go to the site and check out our list of pros. We have a lot of great guys and the roster speaks for itself. I am also very proud that we have released two videos every day since launch. Not a lot of sites do that because it's tough to get the videos in, and so I am very proud of that."
Do RunItOnce spend time teaching their players how to coach?
"Anytime we hire anybody I watch all of the demos. If I have immediate feedback I give it to them then. I also tell them all that they can hit me up if they want to talk about video ideas, or anything relating to videos, but only a few people have taken me up on it.
"I think there have been a few instances where we have told people to speed things up, don't do this, do that, do more of this, talk about ranges more, etc. Fortunately, apart from me we have at least two other people who watch every video that's released, and they have had more direct contact with the pros about audio and video quality, and the quality of the videos in general."
Is the online training format a bit old hat now? Shouldn't we be seeing more innovation?
"For teaching beginners there hasn't been enough done. I think you can get really creative about walking them through things. But once you get to the advanced level, something like that just doesn't suffice because who am I to tell a $10/20 player that they were wrong in a spot? It's too subjective at that point, and it's just about the nuances of the game. I don't know? If there is a better way of doing things, I haven't figured it out.
"I am excited about our forums, which have done really well. They are free and we're not making any money from them, but it's difficult to get the critical mass of people, and I was very worried at the beginning, and nervous of trying to reach that point before people gave up on the forums.
"So I am happy we have that critical mass, and I think it's the best strategy discussion we have on all forums, and we have a lot of great people who provide a lot of great value on there."
Comments