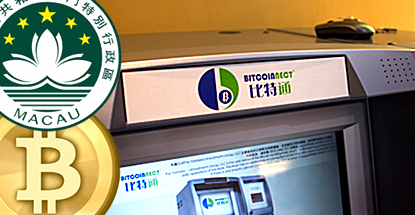 Authorities in Macau have struck a middle ground on the use of China UnionPay card swiping devices in jewelry and pawnshops on casino property. Contrary to earlier fears, the government isn't requiring these shops to stop processing transactions via their UnionPay devices but the shops are no longer eligible to apply for new terminals. The government will also conduct a three- to four-month appraisal of the new landscape and isn't ruling out the possibility of removing all UnionPay devices from casino shops should the government not like what it finds.
The shops had enjoyed a lucrative sideline by allowing gamblers to purchase luxury goods via their UnionPay cards, then immediately exchange the goods for cash minus a commission. The switcheroo allowed gamblers to circumvent restrictions on taking money out of China. However, some budding entrepreneurs pushed the game too far, employing mobile swiping devices that allowed Macau gamblers to make direct withdrawals via their UnionPay cards while the transactions would be recorded as if they were taking place on the mainland.
Meanwhile, the company that just installed Macau's first Bitcoin 'ATM' insists the timing has nothing to do with the UnionPay crackdown. On Friday, Hong Kong-based Bitcoinnect Ltd. installed a Genesis1 Bitcoin ATM/vending kiosk in a jewelry shop in the lobby of the Sanda Macao casino. But by Monday, the machine had been moved to a pawnshop across from Casino L'Arc, which operates under an SJM Holdings license.
Bitcoinnect CEO Jase Leung told GGRAsia the move was necessary because the WiFi connection at the Sands Macao shop "was a bit unstable" and it would take the local telecom provider up to a month to install a fixed line. Leung said he wasn't aware if the shop had alerted Sands Macao as to its new piece of technology, while Sands China claimed to have had "no knowledge" of any such machine on its premises.
Macau's financial watchdogs issued a statement last week to the effect that Bitcoin isn't legal tender in the special administration region, nor is the virtual currency subject to supervision by the AMCM. Leung took this as "a friendly reminder" that the kiosk "could not be referred to as an ATM or the operation of it regarded as a credit institution."
Bitcoin ATMs allow users to 'sell' Bitcoins for cold hard fiat currency, up to 6,800 banknotes in one go in the case of the Genesis1. Bitcoinnect's machine has been converted to spit out Hong Kong dollars – the coin of the realm in Macau casinos – but Leung insisted it was "not a substitute for UnionPay." Leung told Macau Business Daily that Bitcoin "can never replace a UnionPay terminal swipe – it involves the users having to establish their own Bitcoin account and a user identification process."
Should Macau regulators express unease at the possibility of the devices being used for money laundering purposes, the Genesis1 is capable of some serious 'know your customer' functions, as it comes equipped with a fingerprint scanner, hi-def camera, ID-card reader and SMS verification. Leung insists that every transaction the machine conducts "is on record" and relevant information can be delivered to the authorities should they require it.
Leung said his firm would not be "targeting Bitcoin kiosks in only casinos but in other shopping places as well – basically, spots that can help us to popularize the use of Bitcoin transactions." The company plans to launch at least three more kiosks in Macau by early July.