Lee Davy sits down with James Dempsey to talk about the lack of British influence at the World Series, the subject of money and much more.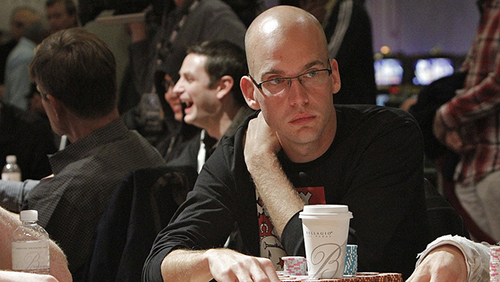 When the former World Series of Poker (WSOP) bracelet winner, James Dempsey, sauntered into my view I knew I had to grab him for some CalvinAyre time.
I know a rare sight when I see one and British poker players are like rocking horse shit at the 45th Annual World Series of Poker. But why have they decided to ditch the desert in favor of Queen and country?
They are either broke, would prefer to watch the World Cup from the sanctity of their own pubs, or just can't be arsed.
So I thought I would ask the man who is normally in the middle of a gaggle of Great Brits, but lately seems to be wondering around like he has lost something.
"It's crazy. It feels so weird from all the years I have been before. There are usually British players everywhere, but it's different this year. Today was just like the good old times. I had Simon Deadman on my table, Jack Ellwood was behind me, Craig McCorkell was next door and Jake Cody was also in the room. Other than that, it's almost a little depressing to be honest.
"You usually bust, send a text out and find out where everyone is, but this year has not been like that. I usually have a choice of around 10-people to go out with, but apart from some loose arrangements around the World Cup I seem to be just texting Kevin Allen all of the time."
Did everyone stay at home because they are broke?
"That's part of it. Certainly there isn't as much money in poker as there was. When you first start coming you are optimistic and think you could win something, then after a coming here, for say three years, and you are losing money each year, you think, 'do I really want to give up my summer and put myself through that again?'
"I'm feeling like that, and I have done really well in the past, so I can only imagine how people who have never done well in the past must be thinking. They must be thinking, 'I can't be bothered with it…I might as well stay home and play online.' There are also some people who don't like the WSOP structures. They think they are pointless, because you lose so quickly, so I can see why they are not coming – but it's a shame.
"Money is not as liberal as it used to be. Looking at a lot of guys who you used to be here, and are not here anymore, you only have to look at Moorman's stable to see how many people from that are not here.
"It's a shame, some have moved on and done other things. It's not all about money. Middy for example went on his own, did really well and won a load of money, but he just isn't that interested in coming out here. The lure of it being the WSOP – and the must attend event – perhaps you don't have to be here a anymore?
"It just gets old. You do three years of it, and it gets harder and harder to get excited for it, unless you are doing well. For me, I can't imagine being anywhere else. As a professional poker player you just have to be here.
On the question of money Dempsey has won close to $2m in live tournament earnings. Whilst we all know poker players don't bank every penny you see on the Hendon Mob, a few dollars have passed through Dempsey's hands. Would he do anything different with that money now he is a little older and wiser?
"I would definitely do some things differently if I had a big win now, but I don't regret anything I did in the past. I made decisions that I was happy with at the time. A lot of them were about enjoying myself and I am not going to apologize for that.
"Obviously as you get a bit older and, throughout your life in general, you are going to become more aware of what you are doing. So this time around I would go home and buy a property where in the past when I had an opportunity to do that I didn't. Instead, I just went out and enjoyed myself. That's what you are supposed to do when you are in your twenties and have a lot of money.
"The more you have, the more you spend – and it goes quickly. I had a lot of good times with the money I won. Would I have been better off buying a property? Yes, but at the same time I have all of these memories that most people don't experience in their lifetime, let alone when you are young.
"It's all about enjoying that stuff when you are young. So many people get to make money in life, and don't enjoy it when they are younger. It's so much fun having money when you are younger."