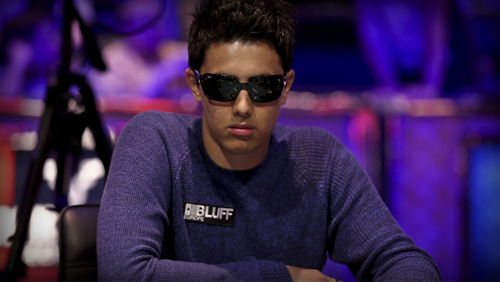 Lee Davy sits down to talk to the World Series of Poker (WSOP) bracelet winner, Craig McCorkell, and the young British pro airs his concerns over what he believes to be sub-standard structures.
Craig McCorkell is a World Series of Poker (WSOP) bracelet holder, after claiming the crown in Event #36: $3,000 No-Limit Hold'em Shootout, back in 2012, and so I think he deserves to be listened to when he talks up about a particular beef he has with the WSOP.
And boy does McCorkell have a beef.
So what's niggling at the British pro?
Structure, structure, structure…and effort.
Let's hear what he has to say.
"The WSOP has a policy of doing 3x the buy-in for the starting stacks, which obviously creates a huge problem with the fact that they have to adjust the structures based on that. If you are going to have a 1k tournament, with 3k starting chips, then you need to base your structure on the fact that you have 3k chips and therefore they start with the small blind and big blind being the same at 25/25. If they were to eliminate the 3x buy-in, and have a starting chip stack that has been proven all over the world  – say 10-15k starting stacks – you could build a structure around that and it would be a lot better.
"Even in the 1k's, if you want to start with a shorter stack – say 10k  & 15k for the 1.5k's – you would be able to develop a much better structure for the MTT's than the ones that are currently in operation."
It's interesting that McCorkell talks about the 3x buy-in as being a negative thing. During my time playing in the Millionaire Maker the players were telling me that there was a time when you would only get the same number of chips as your buy-in – so 1,500 chips for a 1,500 buy-in!
"Originally they had the same buy-in for the number of chips. They made it 3x because it would have been impossible to hold a 1k that would have any sort of playability for a skilled player. The 3x structure is better, but there is no real need to have an attachment to the buy-in and the starting stacks.
"If you compare it to the EPT structure, where you have a 1k euro or 2k euro buy-in, they set the structures out and they have been proven to be successful over a large sample size and the players are very happy with them."
So does McCorkell have a particular structure in mind?
"I haven't really thought about structure, but I am sure they have a committee and I am not sure who is very vocal on the committee, from a players point of view, but they should be lobbying for better structures for these events. Players come from all over the world for the 1k and 1.5k events, and given the current economic climate these are big events for people, and so they deserve the right to have some playability in the early stages of these tournaments, and not just sit there with 25/25 blinds and 3k chips – with 25/50 and 50/100 straight after. It's not really linked to the prestige of the tournament. To win a bracelet should be a prestigious thing, so I feel like they owe it to the players to create better tournament structures.
"Also a lot of people are favoring late regging these tournaments because they can't sit at 25/25. 10-handed play, with these stack sizes, is also boring. There are a lot of things they have to get around to improve these structures, but they should make some effort to do that. This year they are experimenting with the monster stack, but there is no reason to experiment. These structures are proven worldwide to be successful. Just look at the EPT structure and you will see that they are successful; they work and the players love them."
I tell McCorkell that I am not sure the WSOP has an official player's committee like the EPT does, and instead I think they seek advice from the more experienced WSOP players.
"Well maybe they should be doing more to fight for what the players want. Because no one really speaks up about the structures and people just accept them for what they are. It's not that I think they are terrible, I just think they could be so much better. If this is going to be the pinnacle tournament series, in world poker, then they should be putting more effort in than what they currently are.
"Take the final tables for example. They have nine TV screens just showing a flop. Just the board…no coverage. It feels like there is no effort being put in, each year.
Nobody can see anything. They have TV's but they are turned off. You could have different camera angles, or replay the live stream on a delay…that would be interesting for the spectators. At the moment you can't see anything because you are too far back, or too low; you just have the flop, which you can hardly see and you can't hear the commentary.
"I feel like it's the same every year. It would be different if they were listening to player feedback, but they don't seem to be doing that, and I think they could be doing a better job."
So Craig isn't a fan of 10-handed play then?
"I understand the WSOP have a lot of players to fit into a small place, but 10-handed poker is not how the game should be played. The more hands you have on a table the more likely someone has a really strong hand. Strong hands in NLHE are tough to beat. 8-handed would be great, and failing that 9-handed play would be the absolute limit for me."
As a primarily NLHE player has McCorkell seen any changes to the NLHE tournaments that have been to his liking?
"They had the Turbo again this year, which is good, but they messed up with the $3k Shootout. It was the same day as the $1.5k, and I don't know why on earth they did that? The $3k field ended up being a lot tougher because of that. If you are going to have a $1.5k, at midday, and a $3k Shootout at 4pm, it's going to be a catastrophe. If you are going to have two NLHE tournaments, on one day, don't have the Shootout second. It's a very short late reg, so if you bust the $1.5k, at say 7pm, you couldn't get into the Shootout."
So there you have it WSOP.
One of your champions has spoken.
He wants to see a change in your structure to give more play to the people who are investing their time and money into the $1k and $1.5k events.
What do you think?