Lee Davy's guest this week is the two-time World Series of Poker (WSOP) bracelet winner, Eric Froehlich, and the topic of discussion is Froehlich's involvement with Magic the Gathering.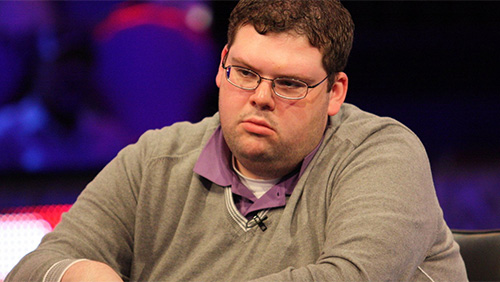 When Eric Froelich won his first WSOP gold bracelet on 5th June 2005, he became the youngest ever player to do so.
He has since gone on to win two WSOP bracelets and amasses over $2.2 million in live tournament earnings. But did you know that just a few days before that first bracelet win, Froehlich was practicing how to handle his cards because he had never played live poker?
He must have been bricking in under the lights of the WSOP final table?
Not so.
Froelich had gotten used to the spotlight, years earlier, as one of the best players in the world at Magic the Gathering.
"I wasn't nervous at all," said Froelich, "I had been playing live poker for all of three days but my Dad reminded me that I had been playing Magic competitively for years as a kid. It was the perfect training ground, and there was very little difference playing for $350K as a young adult, or $10K when you were a 14-year-old  kid."
So where did it all begin?
"It was 1994, I was 10 years old and some of my friends in school were playing Magic so I had my Dad to take me to the store and buy the game. I couldn't understand the rulebook; he ended up reading the whole thing and explaining the game to me. It was pretty thick and I played the game with him, my brother and some fiends.
"Basically, everyone in school played in 1995: boys, girls, everyone in class—that's what we did during our breaks. By sixth grade nobody was playing except for me and a few other kids but I enjoyed it. I enjoyed the competition and it was something I stuck with."
How did he go from playing with his friends to playing competitively?
"Competition didn't really exist back then. They had basically started the pro tour and it wasn't a big thing. You had to call in you get your slot on the pro tour. It wasn't something that there was a lot of competition for.
"The bigger tournaments started up a few years after that and it just so happened that one of the first Grand Prix's—the thing that had been feeding the pro tours for the past 17 years—happened to be in DC, where I lived. I begged my parents to let me go; I was 13 and I made the top eight of that and it fuelled my competitive spirit.
"Then I played a lot locally, where the competition was pretty good, but it wasn't the highest level. I was winning every week. I was a very brass, pompous, somewhat arrogant teenager, and I knew that I was the best despite being a kid. I enjoyed beating the adults and it was just something I continued doing."
How did you fund your Magic buy-ins?
"It's hard for me to remember the situation but I worked some part time jobs that didn't pay much…but I wasn't playing Magic tournaments that cost a lot either. I played in a $5 weekly tournament and my Dad played also.
"I was a little bit spoiled as a kid, people on the outside may not have viewed it like that but looking back now, I definitely think I had everything I wanted. So they didn't really mind paying my entry fees and I enjoyed it. I was honestly making money if I ever wanted to sell my cards because there were prizes every week and I won consistently—30 weeks in the row consistently—and I was playing more competitive tournaments that were paying scholarship fees and I was winning consistently.
"I made a decent amount of money in Magic. I made six figures, it helped pay for my college and I travelled around the world, so it did a lot of good for me."
I believe you are back playing now, is that right?
"I took a few years off when poker became bigger in my life. It was after I had won my first few bracelets at the age of 21–22. A lot of my friends had quit playing Magic, and it was something that I did so I could travel the world to see so many of my friends, and that was one of the big appeals to me. Once I had the competition outlet in poker, it didn't really have the same need as I had before but I still loved Magic.
"I would read the new cards, watch the coverage and see what was going on but I didn't play a tournaments for five years. They ended up giving me an invite back to the pro tour for being a poker player and promoting Magic through poker outlets.
"I did very well on my first pro tour back and ended up qualifying for even more and ending up doing well in the World Championships that year. I have had some of the best results of anyone in the past few years, even better than when I was playing seriously."
I wondered if people gave him special treatment in Magic akin to the interviews that he is asked to take in poker for example?
"When I came back to the game in 2010, nobody really knew who I was. I had a pretty successful past but I hadn't really played in a while and it's a game that's ever changing. There was a time period in 2002–2003 when people were talking about me being one of the best in the world, certainly one of the best in the country – which was easier because so many people were leaving to play poker. Nowadays my results have been really good and so whenever I go to a tournament I get a lot of people asking me to take photos and sign things which is awesome and a lot of fun."
Why do so many people migrate from Magic to poker —what are the similarities?
"There are so many. The games are very similar: reading people, bluffing, strategy, math, getting into your opponent's head and figuring out what they are doing, planning ahead, playing turns ahead in Magic – the games are so similar."
So if Froehlich had children would he promote Magic or poker?
"I'm not really one to push children in general. I like to hope they will find their own way in life and if they enjoy the games or not is up to them. That being said I don't like the poker life style. It's very tough and stressful. I wouldn't push anyone away from it; I just wouldn't encourage anyone to get into it. It's very tough for a young person to get into and you need a good support system because there will be a lot of swings both emotionally and mentally. But I would encourage anyone to get into Magic, it may be the best game ever made and I still love playing it today."