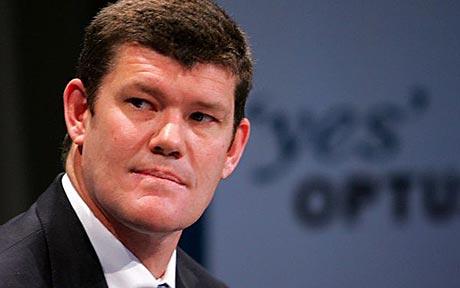 James Packer is preparing to expand his business empire into China; and no, it doesn't necessarily have anything to do with gambling. During the recent China's Century Conference in Melbourne, the Australian casino mogul told the Australian that he was keen on opening business deals in China, and he wants to deal with his billionaire buddies to conquer the Chinese market.
Packer singled out his Asian gaming partner Lawrence Ho, who is the son of the casino magnate, Stanley Ho and fellow Australian billionaire, Kerry Stokes who is currently the executive chairman of Seven Group Holdings, a corporation that includes WesTrac.
WesTrac sells Caterpillar mining equipment and vehicles in northeast China and also a stake in the Agricultural Bank of China.
Packer's RatPac Entertainment venture with Hollywood Director Brett Ratner is one specific business he wants to break into China.Packer sees the enormous business potential of film production in China in light of the massive cinema expansion going on in the country. Packer suggested that Chinese box-office numbers will surpass the US in as little as 10years. Part of his RatPac Entertainment strategy is to invest heavily in Chinese content catering to Chinese consumers—a strategy that could be a gold mine if there is continued growth in thelocal movie industry.
Packer is keen on doing deals with Stokes in Chinaas the latter already has strong relationships in China.
Packer is making a smart move in partnering with people who are experienced in the Chinese markets, for all the potential China has to offer foreign entrepreneurs it offers just as many pitfalls for those unable to navigate them properly.