WSOP Day 3 sees the former chef Roland Reparejo take the bracelet in the Casino Employees Event; Vanessa Selbst make a tremendous recovery to enter the final of the $25,000 Mixed-Max; Steve Billirakis in good shape to win his third bracelet, and Miguel Prouix looking for bracelet number two in the first NLHE $1K of the summer.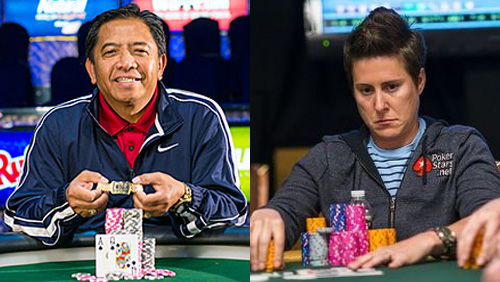 When I played in the Casino Employees Event, I spent some time on the same table as Roland Reparejo. He was safe and solid. Sunglasses hid his eyes, and a cap covered his scalp.
Two days later, and this unassuming shape would be the last man standing, in an event that saw 876 players trying to turn their dreams into stuff they could touch.
When you have financial security, winning more money doesn't have a great effect on your life. I have heard this truth be told by numerous professional poker players who have managed to extract wealth from this great game.
But at this level, the same story doesn't ring true. At this level, money matters. There are bills to pay, debts to eliminate and children's education to take care of.
These are all the things that the former chef from the Philippines, Roland Reparejo, has said he is going to take care of after earning the biggest prize of his life.
He waltzed into the unexpected third day of action with over $1M more chips than Corey Emery, and it just took six hands before he was waltzing back out.
His final act, of three of the most amazing days of his life, came when he called a shove from Emery, holding [As] [Qs]. His opponent flipped over the inferior [Jh] [8h], and five community cards later, the first event of the series was done and dusted.
"It's unbelievable. My dream has been turned into reality. I don't know what more to say. I am just so very happy," he told PokerNews after his victory.
Final Table Standings
1: Roland Reparejo – $82,835
2: Corey Emery – $51,037
3: Charles Nguyen – $33,073
4: Olivier Doremus – $24,203
5: John Taylor – $17,975
6: Brian Wong – $13,528
7: Marcin Sobczak – $10,308
8: David Luttbeg – $7,947
9: Kevin Chiem – $6,192
Event #2 $25K Mixed-Max No-Limit Hold'em (NLHE)
Before the series began the Global Poker Index (GPI) Editor Eric Danis asked me who I thought would emerge from the World Series of Poker (WSOP) at the top of the GPI Top 300.
The two-time WSOP bracelet winner and greatest-ever female poker player that has ever lived has gotten off to the best possible start after bashing her way through a tough field in the $25,000 Mixed-Max NLHE Event.
It hasn't been plain sailing for Selbst. In the semi-finals, heads-up stage, she had to claw back a 7:1 chip deficit against the Los Angeles restaurant owner Al Decaloris before making her way to the final.
It was an amazing run for Decaloris, who takes home $290,622 for his troubles, and just to show his lack of inexperience at this level walked into the media room to get his money.
Her opponent will be Jason Mo. A man I know very little about, but during dinner with Daniel Cates last night, the Jungleman had only good things to say about his game.
One thing I do know, Mo is a talented individual who knows his way through a heads-up match-up, never better demonstrated than when he finished runner-up to Brian Hastings in the $10k WSOP Heads-Up Event back in 2012.
The match will also contain a little bit of needle after Mo criticized Selbst's play after she eliminated Ryan Fee in seventh place.
"Lol Vanessa is so bad, poor Fees," Mo tweeted after his buddy was sent to the rail.
Mo starts the final table with a decent chip lead off 5.86m facing off against 3.96m.
Event #3: $1K Pot-Limit Omaha (PLO)
During my Day 2 recap, I told you to look out for Steve Billirakis, and he didn't let me down, as he ends the day with the chip lead.
Billirakis has 961,000 chips, as he marches towards his third WSOP bracelet, and he has a new skinny physique (something en vogue at this year's WSOP it may seem). .
Only six players remain, and it is going to take something special to push Billirakis off his perch.
Final Table Chip Counts
Steve Billirakis – 961,000
Brandon Shack-Harris – 695,000
Matthew Ryan – 604,000
Lori Yogo – 575,000
Morgan Popham – 303,000
Robert Paddock – 250,000
Stephen Chidwick 10th, John O'Shea 12th, Greg Merson 14th and Jason Somerville 18th are just a few of the stars who have started the WSOP with deep runs.
Event #4 $1K NLHE
There are 2,224 players entered the first $1K NLHE Event, and after a barnstorming first day only 186 remained.
The last batch of players contains the usual spattering of amateurs and pros, but it is a pro leading the way as the former WSOP bracelet winner Miguel Prouix bagged and tagged 120,500 chips.
Chasing his coattails is the PartyPoker pairing of Scott Baumstein (88,200) and Jamie Kerstetter (69,700), Phil Collins (69,800) and Jimmy Fricke (86,100).
Two men that I believe have the tools to dig a little deeper are Mark Radoja (102,000) and Niall Farrell (86,000).
Comments