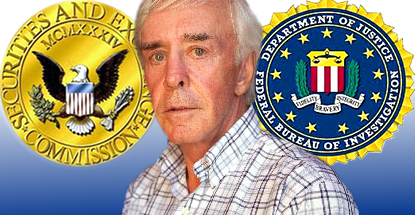 Federal investigators are probing stock trades involving legendary sports bettor Billy Walters (pictured) for possible insider trading violations. On Friday, multiple media sources reported that the FBI and the Securities and Exchange Commission (SEC) were investigating trades involving Walters and pro golfer Phil Mickelson with the possible involvement of billionaire investor Carl Icahn, whose holdings include casino operator Tropicana Entertainment.
In July 2011, both Walters and Mickelson bought shares in Clorox just days before Icahn launched a takeover bid of the household cleaning product firm, causing shares to spike. The New York Times reported that the Financial Industry Regulatory Authority (FINRA) took notice of the trades. Federal authorities are reportedly now reviewing Icahn's phone records from the period to see whether he had any contact with Walters or Mickelson.
Since Icahn's bid to assume control of Clorox ultimately failed, it's unclear whether Icahn was actually privy to any inside info. Even if Icahn signaled his intentions to Walters and Mickelson, doing so would only be illegal if he breached a confidentiality agreement, although securities law contains a rule against leaking "material, nonpublic information" regarding a takeover offer.
Walters and Mickelson are also being investigated for August 2012 trades involving Dean Foods. The trades preceded an announcement by the company that it was taking a subsidiary public and Walters is suspected of having a source inside the company. The Dean Foods investigation has no connection with Icahn.
While Walters is an avid golfer who owns courses in Nevada, he told the Times he'd never met or spoken with Mickelson, but the Wall Street Journal quoted sources saying the pair played golf together and occasionally discussed stock trades. Icahn acknowledged knowing Walters but disavowed any connection to Mickelson. Icahn also claimed to be unaware of any investigation and said any suggestions that he'd behaved improperly were "inflammatory and speculative."
The Times reported that FBI agents quizzed Mickelson in New Jersey last year about his trading activity while the Journal said agents approached Mickelson in Ohio on Thursday. In the latter case, Mickelson referred the agents to his attorneys.
The feds have apparently been digging for dirt on this detail for nearly three years now, yet still haven't found anything that would convince them to lay charges, making the simultaneous leaks to the Times, the Journal and other media outlets all the more curious. If you can't convict, smear?
In Walters' January 2011 profile with 60 Minutes, he lamented the misfortune he'd experienced investing in public markets, observing that "in one millisecond, there's more dishonesty than has taken place in the entire history of sports betting, poker and casino gambling." More hassle, too.