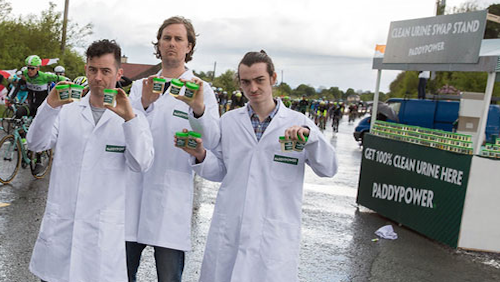 Getting admonished by the Advertising Standards Authority over the Oscar Pistorious fiasco apparently hasn't resulted in Paddy Power losing its sense of humor. The Irish bookmaker known for its cheeky publicity gimmicks showed up at the final stage of Giro d' Italia cycling event in Ireland with a "Clean Urine Swap Stand," offering competitors exactly what it says: a urine swap.
In a clear dig at cycling's tarnished history as a sport replete with alleged and shamed dopers, Paddy Power offered cyclists small test bottles supposedly containing clean urine, effectively guaranteeing nobody gets caught doping once organizers ask for those wee-wee samples.
It's unclear if anybody took up the Irish bookmaker's offer. We doubt anybody did, but we're already snickering at the thought of someone actually grabbing a bottle to use on tests at the finish line…and then testing positive as soon as the results come out.
Unlike the scandalous Pistorius ad that generated global scorn, the 'Clean Urine Swap Stand' allowed Paddy Power to grab the spotlight in its typically humorous way without ruffling too many feathers.