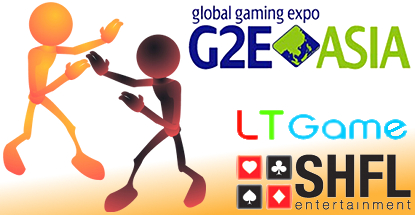 The Macau Jockey Club re-opened its long dormant casino this week, boldly embarking on a new 'chipless' future. The 13k-square-foot MJC Casino space operates under a license held by SJM Holdings and features 180 live multi-game machines and four 10-seat electronic baccarat tables, none of which involve the exchange of physical gaming chips. Players cash in at the start of their gambling session and cash out at the end, with all bets in between recorded electronically.
The MJC Casino's new set-up is powered by LT (Macau) Ltd., a subsidiary of Hong Kong-listed Paradise Entertainment Ltd. that provides 60% of Macau's total complement of electronic table games (ETG). Paradise chairman Jay Chun told Macau Business Daily that the chipless setup had reduced the MJC's staffing requirements from 30 to 10, a significant benefit given Macau's current croupier shortage that will only get worse when the first of the mega-casinos under construction on Cotai start opening next year.
In addition to supplying the machines, LT will also provide the MJC with sales, marketing, promotion, player development and referral, event coordination and other services. In exchange, LT is entitled to between 40% and 55% of net casino win, which the company believes will eventually become "the revenue driver of our casino business." In 2013, over 83% of Paradise's revenue came via its casino operations. Paradise reported profit of HKD 103.8m (US $13.3m) last year, down 27.6% from 2012.
WILL LT GAME V. SHFL BLOW UP AGAIN AT G2E ASIA?
With the 2014 Global Gaming Expo (G2E) Asia confab set to kick off May 20, the industry is waiting to see if Paradise will once again square off with western rival SHFL Entertainment. In 2012, Paradise subsidiary LT Game convinced Macau officials to issue an injunction barring SHFL from displaying its Rapid Table Games Multi-Game live dealer baccarat technology (since rebranded as SHFL Fusion Hybrid) at the conference's trade show on the grounds that LT Game held a patent on the technology.
In response, SHFL and the trade show's organizers, Reed Exhibitions, blocked off attendees' access to LT Game's display. The action then shifted to the courts but the brouhaha carried over to 2013's G2E Asia, which saw some gaming device makers choose not to attend rather than risk incurring the wrath of LT Game's lawyers.
SHFL has since been acquired by Bally Technologies, which announced in March that the Macau Public Prosecutor's Office had thrown out the patent infringement case against SHFL after finding no evidence that SHFL had engaged in any wrongdoing. But Paradise immediately insisted that the courts have yet to dismiss the case and maintained that the injunction barring SHFL from "displaying, promoting or marketing their product in Macau still stands."
The apparent non-resolution of the dispute has left G2E Asia organizers wondering if this year's event will also be chock full o' drama. This week, Reed Exhibitions China senior VP Josephine Lee told Forbes that the war between the two companies was "a concern for us as organizers. We're providing a neutral platform. We're a relationship broker. We need to do more work with exhibitors about patent protection."