Dan Colman and Daniel 'Jungleman' Cates are the big winners to come out of the European Poker Tour (EPT) Grand Final Monte Carlo €100,000 Super High Roller.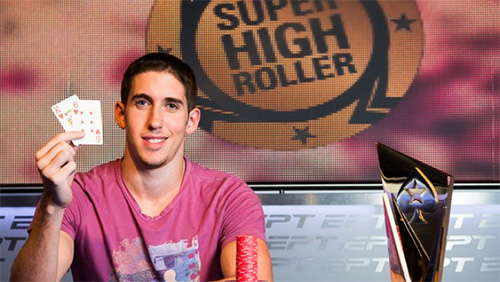 The Internet legends are starting to get the hang of this 'live' thing.
Two online heavyweights – Dan 'mrgr33n13' Colman and Daniel 'Jungleman' Cates – have just squared off for the lion's share of the money in the €100,000 Super High Roller, at the EPT Grand Final in Monte Carlo, and it's Colman who comes away with the title and €1,539,300 in winnings.
It was a timely win for Colman, who was the only player of the 50 that entered three times to rack up an expensive €300,000 bill, and was his first big live tournament victory since finding his way out of his bedroom door.
The final Super High Roller of the season witnessed 50 unique entries and 12 re-entries and created three seven figure prizes.
Here's the nutshell version of events…
Olivier Busquets was the first player eliminated after running his pocket tens into the aces of Paul Phua. The American wasn't eliminated after that hand, but the Jungleman swallowed up his remaining two big blinds shortly afterwards.
Colman then took out the recent EPT10 San Remo High Roller winner, and odds on favorite to take the EPT10 Player of the Year award, Ole Schemion; when his pocket Jacks dominated the pocket Nines of his opponent. It was another smashing performance for the German who qualified for the tournament through a €10,000 satellite and turned a €287,000 profit.
Then we lost three Asian players in a row.
Paul Phua got it in holding [8d] [7d] and was snapped off by the [Ac] [Js] of Colman; a Jack on the flop sorting out that little debate. Then Rono Lo moved all-in holding [Kh] [9h] and was called by Igor Kurganov and [As] [Jh]. Kurganov flopped an ace, Lo flopped the flush draw, but the board stayed dry for the German. and Lo was out.
Then Yong made a move on a flop of [7s] [5c] [3c], when he check-raised jammed holding king high, and Colman was sat holding a set of fives. It's safe to say that hand didn't end particularly well for Yong and he was out in fourth.
Kurganov, Colman and Cates sorted out the numbers, made a deal and then settled down to play, and the German was the only player not adding any more digits onto that agreed score.
He got it in with [Ac] [2c], against the [Qs] [8c] of Colman, and despite Kurganov flopping an ace, Colman also flopped a queen and then rivered an eight for two pair and Kurganov was out.
So the EPT Grand Final €100,000 Super High Roller was to be contested by a WCOOP heads-up champion (Colman) and one of the greatest proponents of this type of format in the game (Cates).
As usual, the whole song and dance would come down to just one tune. That was Daniel Cates moving all-in, holding [Qd] [Tc], and Dan Colman calling with [Kh] [6h]. The dealer set the first trio of cards onto the felt and a six was good enough for Colman to claim the title.
Final Table Standings
1. Daniel Colman – €1,539,300*
2. Daniel Cates – €1,283,700*
3. Igor Kurganov – €1,128,300
4. Richard Yong – €637,600
5. Rono Lo – €493,340
6. Paul Phua – €385,000
7. Ole Schemion – €307,000
8. Olivier Busquets – €241,000
*Denotes a three-handed deal
Comments