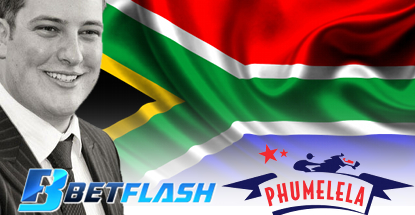 A bill to legalize online gambling in South Africa was published in the Government Gazette on Wednesday, but even its author has suggested its chances of passing into law are "far from certain." Democratic Alliance party shadow minister for trade and industry Geordin Hill-Lewis (pictured) first announced plans to introduce his draft bill back in January. The publication of his Remote Gambling Bill 2014 kicks off a 30-day public comment period, after which the Portfolio Committee on Trade and Industry will debate the bill's merits before making a decision whether to pass it on to Parliament for a vote.
Hill-Lewis estimated the process will take at least nine months and acknowledged that his private member's bill has an uphill climb ahead. But Hill-Lewis felt compelled to act given the lethargy the ruling African National Congress party has shown on moving this matter forward. Sports betting is currently the only legal form of online gambling in South Africa, but Hill-Lewis' bill would allow operators to offer a wider variety of gambling options.
The bill would also allow the country's 10 Provincial Licensing Authorities to issue as many online gambling licenses as they saw fit. Should an applicant fail to meet a licensing body's "fit and proper persons" requirements, said applicant would be subject to a three-year time-out before being allowed to reapply. Should an issued license be revoked for whatever reason, the operator would face a one-year time-out. Operating without a license would carry a maximum prison sentence of 10 years, rising to 20 years for repeat offenders and financial penalties amounting to 10% of betting turnover.
BETFLASH LAUNCH IN-PLAY OFFERING
Meanwhile, licensed online sports betting operator BetFlash has launched a new in-play wager offering for South African punters. The site, which launched last year, utilizes data supplied by Betradar to fuel its in-play product. Betradar covers up to 12k matches across 14 sports on a monthly basis. BetFlash GM Samantha McMurtrie didn't spare the hype, saying she believed her offering to be "superior to any other in-play product currently in the South African market."
PHUMELELA BROADCAST FEES IRK BOOKIES
Land-based bookmakers are expressing opposition to racetrack operator Phumelela Gaming & Leisure boosting fees to screen live racing in betting shops. Phumelela recently told bookies they'd need to pay 3% of their monthly revenue in exchange for the right to air races on televisions in betting shops. Though this percentage was later changed to a flat fee, some 37 bookmakers – most of them in Gauteng province – filed a legal challenge of the cash grab.
Phumelela, which owns five of the country's nine racetracks, also owns 61% of the Tellytrack channel that broadcasts racing from both domestic and international tracks. While the channel is available to consumers as part of a cable package, bookies have to pay extra to air the races in their shops. Prean Nadu, GM of the Top Bet bookmaking chain, told MoneyWeb that the new fee was "a worrying case" that will "affect our business and the horse racing industry in general. With that system, we lose at the end of the day.' Phumelela CEO Rian du Plessis countered that the channel was a "very valuable product" and that the increase in fees was "long overdue."
Comments