Lee Davy holds his hands up and admits he was wrong. Sponsored players do bring value to the organizations they represent, and he has Vicky Coren Mitchell to thank for allowing him to see the error of his ways.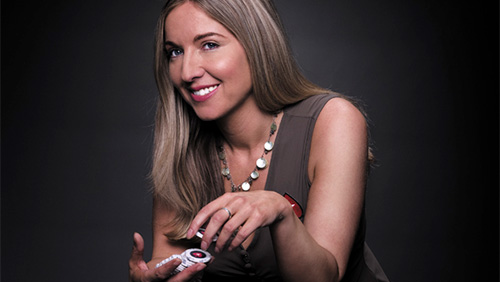 Put your hands in the air if you believe there are a number of poker players who do not deserve to be sponsored?
I see.
Quite a few.
There was a time when I was one of those people.
I believed only the very best technically gifted poker players deserved to be rewarded with a contract to play at the very highest level of the game.
I also held the belief that sponsored players created very little value for the company that it represented, let alone the poker community as a whole. I have even written about my doubts on this very site.
Victoria Coren Mitchell has made me change my mind.
Coren Mitchell's victory at the recent European Poker Tour (EPT) San Remo main event has done more for the advert of British poker than anything I can remember in my short time in the game.
Her image, and that of the PokerStars red spade, has been plastered over the screens of all of the top ranked online news sites in the UK, and most of the dirty fingered print publications that I have cast my eyes on.
She has made poker cool, and not just for women, but also for anybody who was mildly interested in taking up this great game.
There is nobody else in Great Britain that could have pulled this off except Coren Mitchell.
Nobody.
And it goes to show how important it is to hire the right person for the job when it comes to budget time, and the decision to dole out sponsorship contracts.
The sole purpose of a sponsored player must be to attract more people into the game, by honoring the values of the company they are representing, and doing everything in their power to promote that brand.
Being technically gifted just doesn't cut it anymore.
Instead, you need presence; a platform; a following or a set of personal attributes that can be harnessed to amass a following.
Coren Mitchell has 239,000 Twitter followers and is an avid user of that form of social media; she is the presenter of the BBC 4 TV show Only Connect; she has appeared on the TV shows Room 101, Have I Got News for You and Question Time, she writes regular columns in The Guardian and The Observer, she is the daughter of the broadcaster Alan Coren, sister of the restaurant and food critic Giles Coren; she is humorous, talks a lot of sense and takes a decent photograph.
In short, she is well bloody known in the UK.
Whoever hired her, as a member of Team PokerStars deserves a pay rise because the sort of advertising the world's largest online poker room is currently experiencing in the UK would cost a small fortune.
She is showing all the women who are currently sitting on poker's picket fence that if they jump off, some of them will land on their feet. She has creating confidence and belief that poker is a game where the female of the species can adequately hold their own against the males.
When it comes to the blueprint of poker's sponsored player, Victoria Coren Mitchell is the complete package, and as the only player to ever win two EPT main event titles, after 98 attempts, she has also proven she can play a bit as well.
So if you are professional poker player, and have a dream of one day having your £100,000 WSOP tab picked up by an online poker company, then take note of Coren Mitchell and just copy everything that she does.
Comments