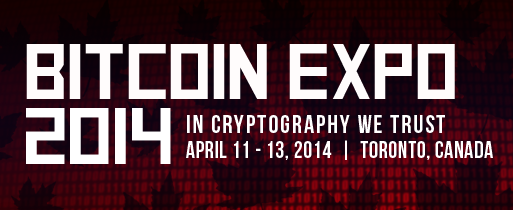 "In Cryptography We Trust".
The tag-line of Bitcoin Expo 2014 pretty much says it all. Scheduled to take place from April 11 to 13, 2014 at the  Metro Toronto Convention Centre in Toronto, Canada, the first Bitcoin Expo in Toronto is set to open its doors and welcome the entire Bitcoin community for a three-day event that focuses on…Bitcoins.
Over 50 prominent members of the international Bitcoin community are expected to take part in the history-making event. The impressive attendance being pegged for the event will serve as a strong foundation and provide great opportunities for global leaders, entrepreneurs, innovators, investors, and stakeholders of Bitcoins to gather in one venue to discuss anything and everything to do with Bitcoins.
But the Bitcoin Expo is more than just a fancy networking night for the industry. On top of the obvious exchange of business cards, the event will also focus its attention on how the entire Bitcoin community can work with charities and non-profit organizations to educate them on the ever-evolving state  and future adoption of crypto currencies.
You don't need to look far for a non-profit organization who  already understands the nature of Bitcoins. The  Bitcoin Alliance of Canada is already that it's already putting its money where its mouth is with a pledge to send proceeds from this event to develop more programs and initiatives in the Bitcoin community.
The Bitcoin Expo is offering a variety of registration options, each coming with their own unique offerings. You  can check out which option is best suited for your needs on the event's dedicated website: http://bitcoinexpo.ca/.