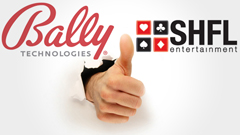 Casino device company SHFL Entertainment Inc can rest easy now after Macau prosecutors threw out the infringement case raised by rival LT Game in Macau.
The announcement was made by SHFL's parent company Bally Technologies, which received notification from the Macau Public Prosecutor's Office that the investigation agency found no evidence tying up SHFL to claims that it had infringed two of LT Game's patents.
"We are extremely pleased with the decision of the Macau Public Prosecutor's Office," Ken Jolly, Executive Vice President of Bally's SHFL entertainment (Asia) subsidiary, said in a statement.
"We have consistently and vigorously defended our products against the many complaints made by LT Games and its affiliates. We were vindicated in July 2013 on a similar issue with an acquittal by the Macau First Instance Court and are confident that we will continue to be vindicated in any appeal by LT Game."
The case made headlines in 2012 after LT Game filed an injuction during the 2012 Global Gaming Expo Asia, asserting that SHFL had infringed on certain patents that it used on its "Rapid Table Games" Multi-Game product, which has since been renamed "SHFL Fusion Hybrid". According to LT Game, it had in it's possession a Macau-issued patent, called "patent I/380″, on electronic multi-game terminals involving live-dealer baccarat. So its argument centered on its belief that SHFL used a similar system to build its own product, which in itself was described as a "multi-game electronic table configuration that combines a live dealer and electronic betting terminals while also accommodating multiple terminals on a live baccarat game along with other live games such as roulette".
The injunction ultimately led to criminal investigation proceedings by the Macau Special Prosecutor against SHFL.
Now, the prosecutor's office has officially cleared SHFL of any wrongdoing, allowing Bally Technologies' clients to use the product without worrying about any legal consequences as a result of doing so.