It's a pretty simple formula used in business all over the world.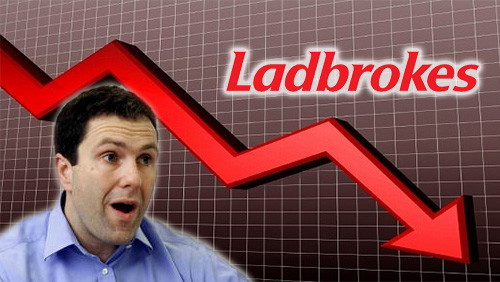 Hit your targets and you will be rewarded for it.
Not so at Ladbrokes, who have decided to take a very different approach indeed.
The 2013 Annual Report is out and the beleaguered CEO Richard Glynn has stolen the headlines, as it transpires he was awarded a total remuneration package worth £4.7m despite his business witnessing a 32.8% drop in profits.
That mammoth pay deal looks even more ludicrous when you realize that it was an 85% increase on his 2012 pay packet, despite profit falling from £200.7m to £138.2m.
In response to the numbers Glynn stated: "Our financial results for 2013 masked real operational progress and we remain confident about the direction of the business."
It's difficult to see where the progress was made, but his Chairman Peter Erskine also remained upbeat about the 2013 scorecard." Ladbrokes continues on its journey to modernize the business. While we are disappointed that the financial results do not reflect the progress we are making, the strategy is the right one."
The pay increase for Glynn comes after Lads had released three profit warnings during 2013, one of which came not long after he was awarded a share bonus worth £2.4m after the share price remained above £2 for 30 days.
God only knows how much these people get paid when they actually achieve their targets?
72.1% of the groups net revenue came through UK Retail despite Lads announcing that they were curtailing expansion in this area to focus on it's digital sector and to save £40m in untapped capital expenditure.
15.7% of the group's revenue came through the much-maligned Digital network, 11.6% through European retail and 0.6% through the good old-fashioned dog and bone.
Net revenue came in at £1,111.3m down 0.6%, with UK Retail taking £800.9m (-0.3%), European Retail net revenue £128.8m (+1.3%), Digital net revenue £175m (-1.7%) and Telephone net revenue £6.5m (-31.6%).
Strategic priorities remain retail excellence, digital capability, pricing, trading and liability management, customer, brand and regulatory leadership.
I nearly forgot….
And paying their leaders huge wads of cash.