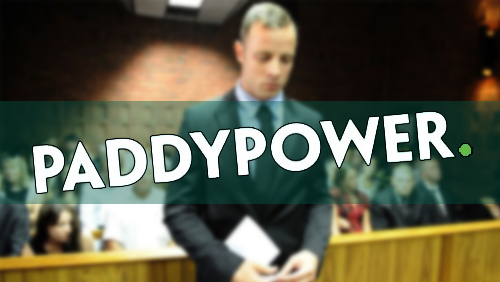 Paddy Power cause outrage after offering a series of bets on the outcome of the Oscar Pistorius murder trial.
Just how far is novelty betting going to go?
That's the question that the gambling media are pondering this morning after Paddy Power decided to offer odds on the Oscar Pistorius murder trial and placed them into the 'novelty betting' section of their site.
The decision to offer odds on a 'guilty' or 'not guilty' verdict caused outrage throughout social media circles and at the time of writing the market has been removed from the site.
What next?
Odds on the macabre game known as 'Dead Pool' where people place bets on the names of celebrities they believe will die?
Pistorious became the first double-amputee to compete at an Olympic Games when he ran in the 400 meters and 4 x 100 meter relay at the 2012 Summer Olympics in London. Not only did the South African take gold in both events, but he also set world records.
That notoriety pales into insignificance when on Valentines Day 2013 Pistorious was charged with the murder of his girlfriend Reeva Steenkamp after admitting firing four shots through a bathroom door at his home in Pretoria. Steenkamp was hit in the head, arm and hip and Pistorious claims the incident was a case of self-defense as he thought there was an intruder in his bathroom.
Paddy Power created a market after news broke that the trial would be shown in television. The Olympic athlete's 'not guilty' plea will be made too Judge Thokozile Matilda Masipa, who made headlines in 1998 after she became the second black woman to be appointed to the high court.
The future of Pistorius is firmly in the grasp of Jude Masipa's hands because trial by jury was abolished in South Africa under Apartheid in 1969.
Paddy Power still have novelty bets on their site for the future of abortion in the Republic of Ireland, whether Julian Assange will leave the Ecuadorian embassy and the name of the Beckham's baby number five.
Do you think PaddyPower has gone too far by opening a market on murder?