Daniel Negreanu has caught the Olympic bug as he goes to print at FullContactPoker with his blueprint to bring poker to the Olympic Games.
Is Poker a sport or a game?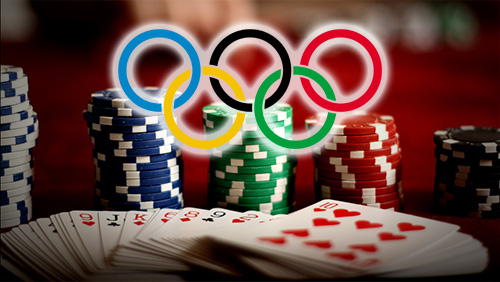 The timeless question that ranks just below the iconic 'is poker a game of skill or luck?' has once again reared its pretty little head after Daniel Negreanu dragged his scribe all over the FullContactPoker Forum to suggest a format that could be used to showcase poker as an Olympic sport.
I mean if Beach volleyball can make it then why not poker right?
Negreanu hasn't just posed the question he has gone 10-steps further by creating teams and structures…hell he has gone the whole nine yards.
The Canadian believes that the USA, Canada, Germany, UK, Russia and France should be the six countries chosen to battle for medals and a quick glance at the Global Poker Index (GPI) shows those six as the countries that currently provide the best players in the game so thumbs up on that score.
He then went on to populate some of the teams with names once again taken from the head of the GPI 300 ranking systems and the Americans, Canadians and Germans in particular look extremely strong on paper.
Here are Negreanu's example team line-ups:
USA: Smith, Mercier, Selbst, Seidel, Raghavan, Volpe, Kenney
Canada: Negreanu, McDonald, Mizzi, Duhamel, Watson
Germany: Schemion, Rettenmaier, Gruissem,
UK: Chidwick, Vamplew, Lewis, Silver, Ziyard, Kamel
Russia: Bilokur, Puchkov, Gulyy, Lahkov, Kurganov, Vitkind
France: Hairabedian, Grospellier, Pecheux, Ktorza, Lacey, Pollack
Each team would have to stump up $300,000 in prize money and in terms of structure Negreanu envisions a preliminary stage where two heats would be played out, per day, over a period of three days and when completed all big blinds accumulated by the team will be their bank for the final.
He proposes 40-min levels with the following blind structure:
500-1000 (100)
600-1200 (200)
800-1600 (200)
1000-2000 (300)
1200-2400 (300)
1500-3000 (400)
2000-4000 (500)
2500-5000 (500)
3000-6000 (1000)
4000-8000 (1000)
500-10000 (1000)
Unlike any other Olympic sport on the roster cash will remain king for the poker boys and girls with suggested payouts for he heats as follows:
1st $60,000 (60 big blinds for the final)
2nd $50,000 50bbs
3rd $40,000 40 bbs
4th $30,000 30 bbs
5th $20,000 20 bbs
6th $10,000 10 bbs
Teams will accrue big blinds throughout the preliminary rounds to take their final stack sizes to the final table. To ensure uniformity and fairness amongst team members each player must play at least one level for the first six levels, then after the sixth levels players can be rotated as you see fit as long as only one player plays per level.
Here is the proposed blind structure for the final stages.
500-1000 (100)
600-1200 (200)
800-1600 (200)
1000-2000 (300)
1200-2400 (300)
1500-3000 (400)
2000-4000 (500)
Dinner Break
2500-5000 (500)
3000-6000 (1000)
4000-8000 (1000)
5000-10,000 (1000)
6000-12,000 (2000)
8000-16,000 (2000)
10,000-20,000 (3000)
"This would be so much fun and the final table would be extremely skillful and deep!" Said Negreanu.
The final table payouts per team would be $250,000 for first, $165,000 for second and $125,000 for third. Payouts that will be the sole reason this will never be anything more than a great idea.
What's your opinion?