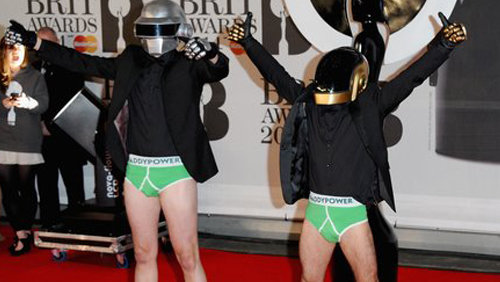 Pop music and the betting industry isn't exactly roast beef and mustard, but if there was one gambling outfit you would put your money on to steal the show at he 2014 Brit Awards it could only be one…right?
Step forward and take another bow Christian Woolfenden and the team of creative dreamers at PaddyPower.
The paparazzi were sure they were snapping shots of the French electronic act Daft Punk as two identical bods walked down the red carpet at the 2014 MasterCard Brit Awards last night.
The imposters made the O2 security team look like a load of mugs as they sauntered past wearing black suits and the dance artists trademark gold and silver helmets. Then as the flashes popped and the lenses enlarged the duo whipped off their trousers to show a pair of bright green Paddy Power lucky y-fronts.
"We agree with what Noel Gallagher said about the Brits last year," said a PaddyPower spokesman, "The event could do with a bit more craic. It's about as rock'n'roll as a baby shower. We decided to drop our trousers early and get out of there as our Daft Punk lookalikes were gagging to get to the pub to watch the Arsenal game. We tried to take One Direction with us but they didn't have any ID."
If the Irish funsters wanted a little more craic then perhaps they should have made their imposters wear lucky green thongs instead?
Lucky Generals Join Team PaddyPower
Advertising outfit Lucky Generals call themselves 'a creative company for people on a mission' and Paddy Power certainly fall into that particular category.
The pair have inked a deal that will see Lucky Generals continue to grow the 'Right Behind Gay Footballers" campaign which was launched in 2013 in partnership with Stonewall, Crispin Porter & Bogusky and Lucky Generals.
Speaking about the deal Christian Woolfenden, Marketing Director, PaddyPower said: "I was impressed by Lucky Generals' tenacity, fearlessness and creativity from the first time I met them. Our Right Behind Gay Footballers campaign was full of mission and mischief in equal measure.
"We made a fantastic start in 2013, but we have plenty more to do, to kick homophobia out of football."
Lucky Generals count the likes of Pernod Ricard's Absolut Vodka and Good Energy as their clients.
100+ Money Back Offers in January
The king of the 'money back' offer was at it again in January as PaddyPower racked up an impressive 109 money back offers in the first month of the year.
The bookmaker also won the coveted 'Bookmaker of the Month' award – the fifth time it has done so – and took the gongs in seven of the top 10 individual money back offers.
The winner of the individual offer of the month award went to Bet365 with its Sky Dogs 2/1 deal which allowed punters who backed a single winner at 2/1 or more live on Sky Sports greyhound race to have a risk-free bet to the same stake on the next live Sky Sports dog race up to £100.
Interestingly, when Bet365 tried the same tact with a similar horse racing money back offer it was hit with a flood of complaints leading to the Advertising Standards Agency (ASA) giving them a smack on the bum.