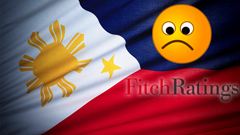 For anybody still longing – and expecting – to see the Philippines turn into a gambling heavyweight in the Asia-Pacific region, debt watcher Fitch Ratings wants to introduce you to something: a bucket of hot water to douse those lofty expectations.
After initially seeing the promise of long-term gains in the Philippine gaming sector, Fitch is pushing the brakes a little bit on all the hype. According to the respected financial analyst, the Philippines' long-term prospects as a contender in the Asia-Pacific gaming region isn't as clear cut as it was initially thought to be. It does see some positive revenue growth in the next few years, but as far as long-term prospects are concerned, the growth trajectory isn't going to be as sharp many people perceive it to be.
Fitch attributes the softened stance on a myriad of issues currently afflicting the Philippines these days, including "weak infrastructure, geopolitical tensions that may discourage the entry of VIPs and the possibility of sudden policy changes".
The last two of those concerns are serious in it of themselves, and even more so should the Philippines already strained relationship with China, the main source of all those high-rolling VIPs, continues to decline. And as far as evolving policy changes are concerned, the country is notorious for having one of the most corrupt governments in the region, so those policy changes are well within the realm of concern for the glass half-empty lot.
Not to say that Fitch has lost complete faith in the country's long-term gaming prospects because it is pointing to real and legitimate concerns in the Philippines. But still and all, there's still a lot of optimism coming out of the private sectors in the country and business is still pointing upwards from a number on industries.
That's precisely why short-term gains, which will be brought about by the opening of the rest of the Entertainment City casinos, beginning with City of Dreams Manila this year, will help the Philippines achieve its double-digit revenue growth in the next few years.
But as part of its job, Fitch is required to be open about its business analysis on countries like the Philippines and it has pinpointed to the mentioned reasons, on top of the country's below average World Bank governance indicators relative to investment-grade peers, nascent transportation infrastructure relative to the ambitious tourism initiatives such as Pagcor's Entertainment City in Pasay, and uncertainty related to corporate income taxes, as all valid reasons on why those bullish on the Philippine gaming market should slow down and survey the surroundings first before making any broad proclamations.
Because as we've seen in cases like the BIR's decision to make sudden changes in licensing and tax requirements, the Philippine government still has a ways to go in proving that it's not capable of flip-flopping at a drop of a dime.