Bitcoin gambling industry leader Bitoombastays true to its commitment to provide online bettors all over the world with top-notch gambling experience through the introduction of its two new slot games. Created to offer innovative features, Bitoomba's latest releases are set to give casino enthusiasts the privilege of betting and winning in first-class Bitcoin slots.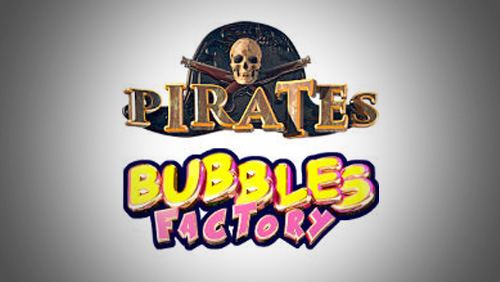 Bitoomba Casino has proven once again its leadership in the world of online Bitcoin gambling through the two new slot games that have been released only recently. Besides the well-received Bitoomba slots, namely Emperor, Rock N Roll, Wild Wild West, Dino Gold, Lucky Pyramid, and Kitten Cash, avid slot players can now spin the reels of the exciting and entertaining games of Bubbles Factory and The Pirates 3D Slots, the latest additions to the casino's inventory of Bitcoin slot games.
Bubbles Factory is the newer slot game of the two and is arguably the most vibrant of all Bitcoin slots featured in Bitoomba Casino. Designed with excellent graphics and topped with colorful designs, this new slot game guarantees all bettors to have a fun-filled experience that is simply unmatched by other slot machines online. This visual treat is poised to easily win the hearts of many Bitcoin bettors, whether they are experienced players or are just starting to explore the lucrative world of Bitcoin gambling.
Meanwhile, The Pirates is the other new Bitoomba slot set to become the early favorite among slot aficionados. Designed for premium gambling with high-quality graphics, it is the casino'sfirst-ever Bitcoin slot game that boasts of high-definition 3D graphics. Through the use of up-to-date technologies in creating and designing extraordinary games in the Bitcoin casino platform, Bitoomba Casino is able to come out with an excellent 3D slot game and succeeds in achieving its mission to provide bettors with a taste of the ultimate betting experience.
Bitoomba's newest additions further strengthen its position in the Bitcoin gambling industry, especially thatBubbles Factory and The Pirates Slots are jam-packed with great game qualities. Bitcoin bettors can expect to marvel at the extensive graphics used to design both games as well as the user-friendly interface that promotes simple ways to win in a safe gaming venue online.
Moreover, the incorporation of the innovative game features makes the two Bitoomba slots all the more attractive. Through the addition of the HTML5 technology, both Bubbles Factory and The Pirates 3D Slots can be conveniently played on any mobile device provided that the mobile browsers support HTML5.
About Bitoomba
Bitoomba is a provably fair Bitcoin casino that has been providing casino enthusiasts worldwide with premium Bitcoin gambling online since its establishment in early 2013. Regarded as a pioneer and an industry leader, Bitoomba Casino aims to be the top source of remarkable Bitcoin games like Roulette, Blackjack, Dice, Baccarat, and Slots. With its dedication to constantly improving the level of gaming, it assures the online community of bettors of its regular release of innovative Bitcoin games. For more information, please visit https://www.bitoomba.com.
Comments