I used to play my poker in a local game called The Ogmore Poker Tour (OPT) and the mainstay of the action was a £10 rebuy tournament before ending the night with a game of Dealers Choice (DC).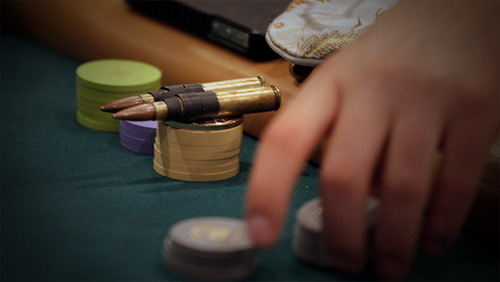 One night Dai Bellamy bought in 23-times. A club record that earned him the cleverly thought out nickname of Dai '23 Rebuys' Bellamy. To some people the thought of having to pay £230 to play in a £10 tournament was insane, but not to Dai '23 Rebuys' Bellamy. Do you know what was going through his head each time he dipped into his pockets for another cocaine and pissed drenched tenner?
Nothing.
The reach into the pocket for another note was an automated response. When he ran out of money he just asked somebody else to lend it to him. He did this because he took his seat in the game, and the game doesn't end until the rebuy period ends and you have zero chips.
This is how poker players think.
It may seem strange to compare a £10 rebuy event with a A$250,000 rebuy event, but that's exactly what I am going to do. If David Sklansky was dead he would be turning in his grave at the shenanigans at the Aussie Millions High Roller events.
I can hear Sklansky from here.
"Haven't any of them ever read 'The Theory of Poker'?"
Well I have David and the problem with the section on bankroll management means that unless you are insanely rich, insanely good at what you do, or have the patience of a saint, there aren't many poker players who should still be in the game.
Daniel Negreanu bought in five times in the $100,000 Challenge and then bought in for $750,000 in the $250,000 Challenge. Isaac Haxton bought in six times in the $100,000 Challenge and then a further $500,000 in the $250,000 Challenge.
Whomever thought of the title 'Challenge' was spot on because for a lot of players you would think it's a 'Challenge' to simply not go broke at one of these things.
But look at them all.
Do they look like they are worried to you?
Not on your nelly sunshine. They look likes cats full of cream.
In a recent interview with BLUFF, Daniel Negreanu told SrslySirius, "The thing that's important to understand when you are playing these events, is when you start you have no intention of rebuying. Then when you bust out you have to make a completely different decision based on the circumstances at that time. If that continues to be the right decision then you continue to play."
I must confess to neither have the desire nor effort to look deeply into this thing from a +EV perspective. Instead, I see a guy spending $500,000 to play in an event where he needs to finish in sixth place just to make a profit, and even then you are shooting $500,000 at a $50,000 wedge.
I agree with Daniel on a lot of things, but not on this one. The reason Daniel Negreanu and co are re-entering like Veruca Salt used to buy Willy Wonka chocolate bars, is nothing more than automated ego. They are in the game, pure and simple, and just like Dai they aren't going to leave until they have to. There is no way that firing $500,000 at a $100,000 event and $750,000 at a $250,000 can be a long-term profitable decision in my uneducated opinion.
Negreanu continued, "I have put all my own money into this. This is 100% me. It's a business decision and I make money doing this."
And once again Negreanu is proven right because he does hit that sixth place in the $100,000 to gain a $50,000 profit, and follows that up with a fourth place finish in the $250,000 for a $500,000 profit.
So we all think he is being reckless, and he walks away $500,000 the richer than when he sat down. At the time of writing, Isaac Haxton – who had done $1.1m in re-entries – is playing heads-up with Phil Ivey in the $250,000 Challenge and is guaranteed at least a $1,720,000 profit over the two events.
So they made the right decision then?
From a personal level I don't think they have. I think they have allowed their ego to over rule their common sense.
Dai "23-Rebuys" Bellamy won that event for £800 and therefore took down a profit of £570. He's more modest than most of our elite.
"I got fucking lucky there." Said Dai after his win.
I don't think that they have made the right decision, because had they not cashed (like Igor Kurganov who fired three bullets in the $250,000) then they have one foot on the slippery slope of variance, and it's very easy to lose your footing.
But it is a +EV decision for poker.
It's only February and so far 14 people have won over seven figures in live tournament earnings. That's huge news. If we want poker to receive more mainstream interest then just throw a load of degen poker players into a game, add in a few whales, declare the event a ridiculously huge buy-in, add the extra element of unlimited rebuys and you have all the ingredients of a global phenomenon
This year will be the last year where the $1m BIG ONE for ONE DROP will be a single $1m entry event. The next time you see this event it will be unlimited re-entries and it will create a prize pool so big that Floyd Mayweather may drop his gloves and take a seat next to the likes of Phil Ivey.
Why?
Ego.
The event will have to grow to keep in touch with the bar set by the Aussie Millions, and you just watch the other organizations following suit. Ego is not just reserved for those elite few that are playing the game let me assure you.
And don't worry about the players. There is a reason they all look so relaxed. It seems that no matter who wins everyone wins such are the intricate computations of swaps and shares that are happening behind the scenes.
It's the same at all levels of the game.
Even Dai '23 Rebuys' Bellamy was in half shares with Dai '3 Cats and a Sheep' Williams, so even if hadn't cashed his fall would have been much softened due to his little deal.
As news leaks out across the Associated Press that there are mad men playing for millions of dollars in casinos around the world, all eyes will be on our little goldfish bowl and that's great news for all concerned.
The Super High Rollers have become the sexy, sassy, strand of poker that will probably break us through into the mainstream, so keep the firing those bullets boys.
Let the stench of cordite fly.
Ogmore Poker Tour