Stockholm, Sweden: Football Addicts (company behind Live Score Addicts) and Ihre Consulting AB have today officially announced their strategic partnership, making Ihre Consulting the worldwide agency to develop, and sell partnership-, and advertising solutions on the hugely popular app.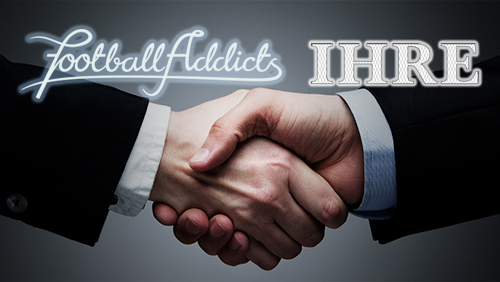 "It is a merely a formality for us since we have worked successfully with Ihre Consulting for the past 6 months and are very happy with what they have brought in terms of insights to the gaming industry, but also of course in terms of deals and revenues for us," commented Patrik Arnesson, CEO Football Addicts.
"We are very proud of this partnership for multiple reasons; it is without a doubt, not only the best live score product in the market, but also the fastest growing one in the world. It is mobile, it is sports, it is live, it is (therefore) highly relevant to primarily the Sportsbook operators we are already working with on the affiliate side of our business," Edward Ihre commented.
"By forming this partnership, we at Football Addicts can continue to deliver and develop the best rated overall app in the marketplace today while Ihre Consulting can focus on the commercials but also the partnerships we are interested in forming where we can together with our partners/advertisers, grow side by side," continued Arnesson.
"Given the immense and continuous growth of Live Score Addicts, across all mobile devices and platforms, in markets where we know there is a huge demand for mobile advertising space and traffic, such as DACH and Italy, this is for us one of the more exciting opportunities we have ever come across and now it is time for us to make sure that gaming operators across territories to start sharing that vision, especially now in the run up to the World Cup," continued Ihre.
About Football Addicts
Football Addicts is the company behind Live Score Addicts, a live score app that has been downloaded more than 3,5 million times and with over 2 million monthly unique users. Main markets include Italy, DACH, Benelux, UK and Nordics. LSA has, and continuously grow by 25% per quarter ever since the start in early 2012, solely on word-of-mouth.
About Ihre Consulting AB
Edward Ihre is the founder of Ihre Consulting AB in Sweden in March 2010. He has been in the gaming industry since 2002, holding positions including Managing Director of Ladbrokes Poker, Director of Partnerships and Affiliations for PokerStars and for Ongame/PokerRoom.com (later BWIN) and Managing Director of Parbet UK.
Ihre Consulting's main fields of expertise (and service provided) are:
–        Affiliate Marketing, including affiliate recruitment, program set-up/optimization, organizational structure and processes
–        Gaming Product Management, including procurement/optimization
–        Brokering/Agent. Help you get in touch with the right companies, people, opportunities and deals. From decision-makers to people on the ground, within all aspects of running a (more) successful gaming business
Many years of experience within the above fields and with an extensive network of contacts, Ihre Consulting can create unique, innovative and sustainable solutions for your company.
CONTACT INFORMATION
Patrik Arnesson
CEO                                        
FootballAddicts AB
[email protected]
tel: +46 703483222
Edward Ihre
CEO
Ihre Consulting AB
[email protected]
tel: +46 709119969