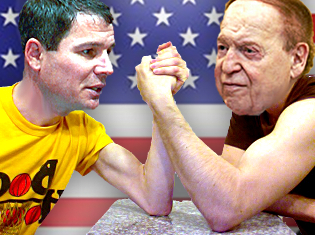 A brief roundup of some of the recent gambling goings-on across the US of A…
AGA BOSS CHALLENGES SHELDON ADELSON TO A DUEL
The winter meeting of the National Council of Legislators from Gaming States (NCLGS) featured an emphatic statement by American Gaming Association (AGA) CEO Geoff Freeman (pictured in the yellow shirt) rejecting the vociferous anti-online gambling stance taken by Sheldon Adelson (the burly fellow opposite Freeman), whose Las Vegas Sands casino group is the richest member of the AGA club. Freeman was preaching to the choir, as the NCLGS has long resisted federal efforts to usurp their authority over gaming within their state borders, similar to what Adelson's pending bid to 'fix' the Wire Act threatens to accomplish.
OnlinePokerReport.com's Marco Valerio quoted Freeman telling NCLGS attendees that the AGA "strongly opposes [Adelson's] position … we cannot force the internet back into the bottle. We no longer have to debate about 'do we want online gaming or do we not want online gaming.' Online gaming is here." Freeman went on to say that "for the foreseeable future, the AGA's efforts with regard to online gaming are going to be focused on preventing prohibition."
CALIFORNIA COOL ON COMPACTS
The NCLGS meeting also featured notable testimony from California Gambling Control Commission boss Richard Schuetz, who told his counterparts in other states they were getting ahead of themselves with talk of interstate compacts, as least, any compact that would include the Golden State's 38m residents. Former Nevada Gaming Control Board chairman Mark Lipparelli has previously described compacts as a more "complex animal" than most people realize, and Schuetz suggested one of the biggest stumbling blocks would be finding a way "to convince [California] why we're going to give you those customers."
Schuetz noted that any agreement to share online poker liquidity with other states would require the approval of California's legislators, governor and attorney general. Schuetz said the people who handle investigation and compliance issues for California's AG "are some of the strongest union members in the state … someone's going to have to convince them that they should give those jobs to Nevada. That may be a difficult sell." The jury remains out on whether California will be able to unite its online gambling stakeholders behind a single legislative effort in 2014. Gambling & The Law author I. Nelson Rose recently told SFGate.com that he doesn't expect successful legislative action until 2015, in part because 2014 is an election year and apparently politicians can't campaign and chew gum at the same time.
LESNIAK STRIPS SPORTS BETTING FROM IGAMING HUB LEGISLATION
In New Jersey, state Sen. Ray Lesniak has introduced legislation intended to turn New Jersey into a regulatory hub for non-US-facing online gambling firms. The legislation, which Lesniak initially unveiled in November, would require international online firms to house their infrastructure in the Garden State and pay taxes of 15% of gross gambling revenue plus a further 2.5% that would go to the state's Casino Reinvestment Development Authority.
The SB 692 bill (read it here) is largely unchanged from November's version, except sports betting has been removed from the list of options companies would be allowed to offer customers outside the US (a reflection of the state's lack of success in its legal quest to offer sports betting). While the bill has yet to attract any vocal opposition, that may be because many observers have questioned the likelihood of any international company choosing to uproot its existing infrastructure from Gibraltar, the Isle of Man and the like without the incentive of being allowed to accept wagers from US customers.
HAWAII FINDS GAMBLING TO BE A NUISANCE
Hawaii and Utah are the only two states that have yet to permit some form of gambling within their borders, and while Hawaii has made unsuccessful stabs at bringing online gambling to its shores, the state's House of Representatives began debate this week on a bill that would declare gambling a public nuisance. The bill, a holdover from the 2013 legislative session, would add gambling to the list of activities – like drug manufacturing or blasting too many fireworks – for which people can file civil suits. Your move, Utah… How about a bill to publicly flog anyone who glances up at the sky and offhandedly mentions they bet it's going to rain?