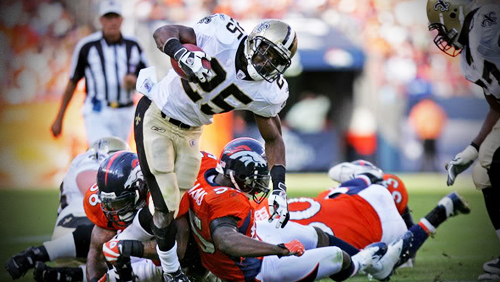 It's NFL playoff time, which on most websites means some kind of preview of the four games with the author's gambling picks. You'd think that be more true on a gambling industry website, but not on this site, and not with this writer. I picked Green Bay and Denver to play in the Super Bowl last year, three days before both teams lost in the conference semifinals. My favorite to win the AFC this year? The Houston Texans. The Houston f—ing Texans, who lost fourteen games in a row. I didn't pick the Steelers or the Bengals or another team, who just didn't win the conference – I picked the worst team in football to go to the Super Bowl. I can't even pick college games – I went 13-21 in my bowl picks this year, which is a good way to end up locked in a trunk with two broken thumbs enjoying a free ride to the Nevada desert.
So I'm not making picks. And I sure as hell ain't betting on the games this weekend – I'm like Mush from A Bronx Tale, only I lock myself in the bathroom. Some might argue that I should actually publish my picks, allowing readers to profit by going the other way. But let's face it; I'm a jinx. If I promised a loss, I'd go 4-0, and predict the exact score of three of the games.
But I will watch the games, with my beloved New York Jets long gone from the postseason hunt. And since I won't gamble, I need a rooting interest. So here, in lieu of shitty picks that won't come anywhere close to being correct, is my viewing guide to this weekend's playoff games, and my choices for who to root for if your team has already crapped the bed.
New Orleans at Seattle, 4:35 PM Saturday
Why you should root for New Orleans: It's freaking New Orleans. Have you been there? It's awesome. Well, most of the time. Not when your buddy hits a police horse and winds up spending 24 hours in jail. And, actually, most of New Orleans is not awesome. When the Saints went on a Super Bowl run a few years back, there were a number of news articles that pointed out that the three hours during a Saints game were the only rest many New Orleans police officers got. Crime literally plummeted during Saints playoff games, as nearly every person in the city sat glued to a television set that they looted in the days after Hurricane Katrina. (Come on, that was funny.) So, if you root for Seattle, you're rooting for violence. Well, more violence than comes from 300-pound juiced-up monsters accelerating into each other with limited padding. But you get my point.
Why you should root for Seattle: They're a quietly tortured fan base. They lost the SuperSonics, the Mariners were good for a few years in the 90s only to choke in the playoffs, and they're terrible now. The state's college football teams have fallen from glory; the city has only the Seahawks to save them. And they're great fans – when Marshawn Lynch busted his famous run against the Saints three years ago, the Seattle crowd literally created enough seismic activity to register at earthquake monitoring stations. Imagine the kind of noise they'd have made for Kevin Durant. (Too soon? Keep calling us hicks, Seattle. We may be hicks – but our hicks outsmarted your nerd billionaires. At least you have a WNBA team.)
Tiebreaker: Everyone wants to make the marijuana jokes about Seattle, now that the drug is legalized in Washington state, but let's be honest: it's not like New Orleans lacks for drugs, or booze, or hookers, or all that other fun stuff. So that's a wash. People from Seattle are kinda snobby; people from Louisiana will gladly dump your dumb ass in a swamp if you're not from there and you look at them sideways. Those are equal sins in my eyes. The edge goes to New Orleans, for one key reason: because the NFL shop sells – for $100 – Seahawks jerseys that are "#12" with the last name "Man." Seriously? People from Seattle pay $100 to advertise their pride in yelling loud, and then call us rednecks. We yelled loud first, damnit.
Indianapolis at New England, 8:15 PM Saturday
Why you should root for Indianapolis: Because they're playing the Patriots. You should root for North Korea if they are playing the Patriots.
Why you should root for New England: Because you're from Boston and you suffered through the tortured decades BBB (Before Belichick and Brady). Or you're a worthless sack of shit who kicks puppies and sees Adam Sandler movies in the theater sober. Probably both.
Tiebreaker: None necessary. You don't root for the f—ing Patriots. But a note: Tom Brady has turned into a dick this year. Some have compared him to late-career Dan Marino, but Marino was always a dick. Brady acts like the rich kid who grew early and whose parents had the money to send him to quarterback camp in California every summer, only now he's a junior and everyone has caught up to him physically so he yells at his receivers to cover up his insecurity. I hate you, Tom Brady. I hate you and your stupid hair.
San Francisco at Carolina, 1:05 PM Sunday
Why you should root for San Francisco: I can't imagine. This 49ers team isn't bad; I mean, Jim Harbaugh is a dick, but they're not annoying like the Patriots. But, seriously – you want people from San Francisco to be happy? They make people from Seattle look like the humblest people on Earth. They've already won five Super Bowls, too. And don't even f—ing think about saying, "Well, it's been a while since their last one." You know how long it's been for the Jets? Forty-five goddamn years. Our head coach got our starting quarterback injured in the preseason because he said he wanted to beat the Giants and win the Snoopy Trophy. You know why he wanted to win a trophy named after a cartoon beagle? Because there aren't any other goddamn trophies in the trophy case out in New Jersey, which in case you didn't notice is a different state than the name of the freaking team! San Francisco can wait another ten years and drink their wine and eat their goat cheese and organic kale and shiver their ass off all summer.
Why you should root for Carolina: I've lived in both North and South Carolina and they're pretty great places. That said, Charlotte – where Carolina plays – is a terrible, godawful place. It's got an attitude, too, but unlike San Francisco doesn't have world-class food or historic architecture or an ocean nearby. Charlotte is actually somehow located in the one of the ugliest parts of North Carolina, second only to Raleigh. It's a bizarre thing that everyone keeps moving to North Carolina and picking the worst places in the entire state to live.
Tiebreaker: Jim Harbaugh is really a pretty big dick. He should stop doing commercials trying to convince us otherwise.
San Diego at Denver, 4:40 PM Sunday
Why you should root for San Diego: They're the underdog. Philip Rivers is doing interviews in bolo ties. If you're white, you have to love Danny Woodhead. You can love him if you're not white, of course, because he looks so cute out there! It's almost like you or I could play in the NFL if we really wanted to. And…I don't know anyone else on the Chargers. Let me check my NFL preview…they have Manti Te'o and Antonio Gates too. Huh. This team is boring. But, look – I said they were destined for 8-8. Hey, that was pretty good! One missed Kansas City chip shot field goal away from dead-on right. That's not bad.
Why you should root for Denver: Nobody wants to see the Chargers in the AFC Championship Game. If the AFC title game is Chargers-Colts, by Thursday ESPN will be sending prepaid hookers to the team hotels just to try and create a story on SportsCenter that someone will actually watch. Meanwhile, Peyton Manning is somehow great and lovable, probably because he's not a bitch like Tom Brady. If you're a football fan, you want to see Broncos-Patriots (Manning vs. Brady) or Broncos-Colts (Manning vs. his old team and his replacement, Andrew Luck). If you're pussy-whipped, or likely to have divorce papers served later this month with the 'reason for filing' listed as "Defendant spent three straight weekends watching football while our children cracked their heads open on the frozen, unshoveled sidewalk in front of our home," then, by all means, root for San Diego.
Tiebreaker: Seriously – you'd watch Chargers-Colts?