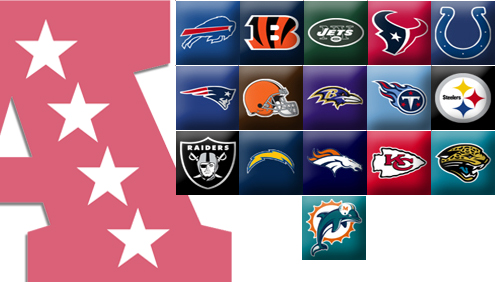 I am a fan of the New York Jets. And, as I wrote a week ago, we are not going to win the Super Bowl. You know that, and I know that. There are tribesmen in the Gobi Desert who know that. They slaughter a goat, and put in on a spit, blood still dripping from its throat. One tribesman turns to the other and says, "I named him Mark Sanchez," and they laugh and laugh.
So, in looking forward to the 2013 NFL season, which starts Thursday night, I have only one consolation: the fan bases of 30 other NFL teams will end the season just as sad as Jets fans will, if not moreso. Because the rest of you will be cursed with the most powerful and most destructive of human emotions: hope. Hope creates expectations; expectations create disappointment; and disappointment creates real, true human sadness.
Fortunately, as a Jets fan, I have no such worries. But as a public service, I wanted to remind all other NFL fans of why their team will lose. If we can, as a country, keep hope down, we can eliminate heartbreak, lower domestic violence rates, and focus on the more important things that traditionally happen on Sundays, most notably the last five episodes of Breaking Bad. To the list:
AFC East
New York Jets
Again, I covered this last week, as has all of the national media, as witnessed by the circus around this team this summer. (As an aside: when has an almost-certain last-place team got more pre-season coverage without steroids or murder being prominently involved? Philip Rivers could have drop-kicked a baby, slept with two of his teammates' wives, shot a congressman, and publicly injected a syringe full of testosterone into his throwing arm and there would still be more national media at the Jets' camp than at the Chargers. And he's in San Diego, which is WAY nicer than New Jersey.) But in case you forgot, or don't believe me, realize that we just signed Brady Quinn – yes, THAT Brady Quinn. The one whose six-year career has one highlight: when he was the starting quarterback for a team that got its second win of the season a day after one its players committed a murder-suicide. And Quinn's contract is guaranteed.
Buffalo Bills
With the Jets and the Bills, I am trying to get the hope-destroying momentum up early, and, frankly, I think it's working already. Buffalo's opening-day starting quarterback will be an undrafted free agent who went 4-22 as a starter in college, leading his college coach to point out that "he's never really won any games." I'm betting you won't find that quote in the Bills media guide this year. Its other quarterback is another rookie with a knee problem, which should heal nicely behind a questionable offensive line.
Fortunately, in the modern NFL, you don't really need solid quarterback play to be successful. As long as their defense comes up with nine sacks, four forced fumbles and two return touchdowns a game, the Bills should score enough points to be competitive.
But Buffalo's biggest problem is its under-reported curse (beyond being located in Buffalo). Twenty years ago this year, the 1993-94 Bills went to their fourth consecutive Super Bowl. Six months later, former Bills great O.J. Simpson was arrested for – and later acquitted of – a double homicide. Coincidence? I think not. The Curse of the Juice is loose! Sure, OJ's in jail now, but Bills fans have been there for a long time, too.
Miami Dolphins
It might be too early for a quiz, but here we go. Who are Lamar Miller, Evan Rodriguez, Charles Clay, Rishard Matthews, and Brandon Gibson?
A. The members of a South Florida boy band called "2 In Love With U"
B. Five people arrested at a techno-trash Miami nightclub called Breeze
C. Key offensive skill players for the Miami Dolphins
D. All of the above
The answer is C. (Though we should all be rooting for 'D'.) The problem for second-year quarterback Ryan Tannehill is that the only reason anyone got the answer right is because the question was multiple-choice and quite clearly over the top. Just how many defensive backs will be covering Mike Wallace on the average play? I'm going with seventeen.
New England Patriots
Come on…I can't…it's too easy…it's really not funny, either. Hang on, it's hard to type when you're giggling like this. I really shouldn't. OK, deep breath.
Your team gave $37 million to a murderer and then released Jesus Christ (aka Tim Tebow). Belichick and Brady are good, but they're not overcoming that.
AFC North
Baltimore Ravens
Ray Lewis is retired, leaving the Ravens with a huge hole. Who among the young group of linebackers is set to step up, dive into piles half a second after the ballcarrier is ruled down, and then jump up and down as if they made the play? Ha! That's the third time I've made that joke, and I still think it's funny. Don't tell Ray I said anything. Please.
Anyway, the Ravens won last year, so they're not going to win this year. We've seen NFL dynasties; they're Montana to Rice and Aikman, Smith, and Irvin. And while the Ravens do have a Rice (Ray) and a Smith (Torrey), "Flacco to (Jacoby) Jones" just doesn't pass the NFL Films cut. Sorry.
Cincinnati Bengals
It's the Bengals, right? They're terrible. They're always terrible. They're the "Bungles" and "Cincinnattica" and all that. I mean…wait, they were 10-6 last year? 9-7 the year before that? They won the division in 2009? That's kind of impressive.
But then they lost a playoff game to…the Jets! Oh my God, they lost to the Jets! That is so sad. Who would lose a playoff game against Rex Ryan and Mark Sanchez? Wait, Peyton Manning AND Tom Brady? That can't be right…that is right! What the f…? What happened? Was that really two years ago?
Anyway, Cincinnati isn't winning the Super Bowl. Why? I don't care. What happened to the Jets? Sanchez beat Tom Brady! He beat Peyton Manning! I need a drink.
Cleveland Browns
True story: one of my best friends hit Browns starting quarterback Brandon Weeden in the ankle with a golf ball at a course back home. You know what the odds are of hitting a starting NFL quarterback with a skulled seven-iron on a golf course in Oklahoma? Better than the odds of the Browns winning the Super Bowl.
Pittsburgh Steelers
I'll make jokes about Ray Lewis, but I'm not making fun of the Steelers in a public forum, not when people pretty much know where I live. They are tough, and they do not take kindly to criticism. Years ago, I got in a drunken argument with a Steelers fan, arguing that Chad Pennington was a better quarterback than Ben Roethlisberger. (Again, these are the things you do when you have hope.) The Steelers fan picked me up, threw me over the bar, then shattered a beer bottle and tried to stab me in the throat. You would never expect that kind of behavior from a mother of three, unless she was a Steelers fan.
AFC South
Houston Texans
I actually like Houston a lot; they've got Arian Foster, Andre Johnson, and Matt Schaub on offense; J.J. Watt is a monster on defense, and they're getting Brian Cushing back from injury. They're my pick to win the AFC.
And that's why they won't the Super Bowl; they just got the jinx. Getting picked by a Jets fan is like getting picked on The Bachelor. We are not the kind of people you want supporting you. After all, I'm the same guy who picked Green Bay and Denver to be in the Super Bowl last year two days before they both lost in the playoffs. Sorry, Texans. But I'll be at the Hard Rock Cafe in Houston October 4-5. Come out to the show, but remember: just because I put the hex on your team doesn't mean you get to heckle.
Indianapolis Colts
The Colts went from 2-14 in 2011 to 11-5 in 2012, so if they continue on that trajectory, they will go 20 and minus four in 2013. That should be enough for the number one seed in the AFC. Of course, that was when their coach had cancer. He doesn't have cancer anymore, which is awesome, but I'm betting it will likely be a lot harder to motivate his team. And I can't wait to see who the first person is who boos Pagano when he calls a draw on third-on-nine. That will be awkward.
(Is that mean? It's kind of funny, right? I mean, you can laugh once it's all over. I'm sure Chuck Pagano would laugh a little; once you've had leukemia, you won't get offended by some two-bit columnist on the Internet? Right? Or am I going to hell?)
Jacksonville Jaguars
Dear Jaguars: Please, just sign Tim Tebow. You're going to suck anyway, Blaine Gabbert is never going to be an NFL quarterback, and you're in freaking Jacksonville, a city Orlando makes fun of. Your fans want to root for the ex-Florida Gator, if you signed him you might be able to take the tarp off the upper level of your stadium, and we miss him already.
Sincerely,
Internet Humor Columnists Everywhere
Tennessee Titans
It would be awesome if the Titans did win the Super Bowl, if only because all of the fantasy owners who have drafted Chris Johnson in the first round over the last four years, expecting a repeat of his 2,000-yard 2009 season, would spend the two weeks leading up the game throwing chairs and screaming, "Why did he wait four years to do it again? I had to get my buddy's name tattooed on my back! I hate fantasy football!"
Of course, the Titans have Jake Locker at quarterback, so Johnson will probably have to run for four or five thousand yards for the Titans just to make the playoffs. Titans fans have argued that once Locker learns some level of accuracy, he has the arm to be a solid NFL quarterback. And if Lindsay Lohan can kick her drug addiction, she might win an Oscar. Again, hope is a terrible thing.
AFC West
Denver Broncos
I'm sure the 37-year-old quarterback with a history of neck surgeries will make it through two consecutive seasons unscathed, particularly in a cold-weather city. I'm sure losing one great defensive player because his agent couldn't operate a fax machine (Elvis Dumervil) won't be a big problem. And I'm sure that the Broncos' other pass rusher, Von Miller, will be just as effective now that he's not taking speed before games. I'm sure the fact that Miller guaranteed a Super Bowl win in March won't come back to bite him. I'm sure road games at New England, the Giants, Dallas, Indianapolis, and Houston won't be very difficult at all. I'm sure I couldn't be more obnoxious in this section if I tried.
Kansas City Chiefs
Sure, they'll be better this year. Andy Reid and Alex Smith are an upgrade from Romeo Crennel, Matt Cassel and new Jets third-stringer Quinn. Of course, you as head coach and your sister at quarterback would have been worth three wins over a year ago.
So, yes, they should be better, but let's also remember: it's still Andy Reid and Alex Smith. If you're eating dog food, and someone offers you a McDonald's hamburger, you think, "Man, this is really good!" But it still ain't steak, and Quarter Pounders don't win Super Bowls.
Oakland Raiders
They're starting Terrelle Pryor at quarterback, which would be awesome if the Raiders were a college team. If they were, they would most likely be ranked in the Top 25 right now, which is certainly not true in the NFL. They're paying $50 million this year to players who don't even play for them anymore. As far as I can tell, their best player is their bar-hopping kicker.
Wait, there's more. Their fans are lunatics and their stadium sucks. Their running back would be awesome if the NFL only played an eight-game season; unfortunately, it's not 1937. And their big free-agent signing was Charles Woodson, a 36-year old free safety. Given the fact that I've never even heard of one of the seven lineman and linebackers playing in front of him, he's going to have a very busy season until he gets injured in Week 5.
Looking at their depth chart reminds me of the scene in Major League where fans are looking over the team's roster. "Ricky Vaughn? Willie Hayes? Mitchell Friedman?…Who are these f— guys?" Substitute Rod Streater, Richard Gordon, and Nick Roach and the joke is just as funny. But even though the Raiders play on a baseball field, I don't think we'll see any Cinderella stories this year. If she did show up, she'd probably get raped and murdered by a group of Raiders fans in spiked shoulder pads.
San Diego Chargers
Quick. After Philip Rivers, name one player on the Chargers roster. And…time's up. Antonio Gates? He was awesome in 2005. Jeremy Shockey was good back then too, it was so long ago. Maybe you guessed Manti Te'o, but it wasn't because you expected him to become a Pro Bowl linebacker.
No, the Chargers are destined for mediocrity; they look like the perfect 8-8 team. They have an inconsistent quarterback, a talented but disappointing running back, and nobodies pretty much everywhere else. I'm sure Chargers fans will be devastated as they leave the stadium in 75-degree weather to ogle gorgeous Southern California women on the beach. On second thought, maybe they will win the Super Bowl. Let's get their hopes up; those SOBs deserve a little disappointment.