Welcome to Part II of CalvinAyre.com's 2013-14 College Bowl Preview. For a complete explanation of our gambling philosophy,  click here for Part I. Basically, we're trying to chunk most of our actual football knowledge out the window (and, yes, we say 'chunk,' not 'chuck') and bet with the same logic that the secretary who wins every NCAA basketball pool uses. Though, for some of these games, I reserve the right to use the little college football knowledge I have. We'll get to that in a moment.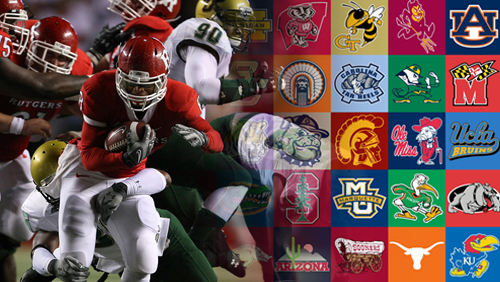 January 1: Gator Bowl, Nebraska (8-4) vs. Georgia (8-4)
Line: Georgia -9.5
The secretary doesn't know what to do. Neither do I. Then the secretary's husband says, "Georgia is giving 9 and a half points even though their starting quarterback is on crutches." And the secretary takes the points. She's no dummy.
Georgia 24, Nebraska 21
January 1: Heart of Dallas Bowl, UNLV (7-5) vs. North Texas (8-4)
Line: UNT -6.5
Remember when a "New Year's Day" bowl meant something? Good Lord. Who in their right mind would bet on this game? Oh yeah, it's a football game with a betting line, so everybody. Denton, Texas (where North Texas is located) is a glorified rest stop off Interstate 35 40 miles north of Dallas. Las Vegas is Las Vegas. The North Texas players will likely spend the whole week leading up to the game worried about which relative gets which tickets and if the girl they're screwing on campus and the girl they're screwing back home will run into each other in the stands. The UNLV players will be in their hotel rooms all week thinking, "Goddamn, Dallas is boring compared to Vegas." UNLV will be ready to go.
UNLV 38, North Texas 34
January 1: Capital One Bowl, Wisconsin (9-3) vs. South Carolina (10-2)
Line: Wisconsin -1.5
South Carolina is known for golf, beaches, and Spanish moss on trees. Wisconsin is known for cheese, beer, sausage, and big beefy Germans who like to start fistfights. And that's just the women. So the secretary picks Wisconsin. The football fan thinks, "There's no way in hell I'd put more than $20 on this game – Vegas nailed this line." So he goes with the secretary.
Wisconsin 20, South Carolina 17
January 1: Outback Bowl, Iowa (8-4) vs. LSU (9-3)
Line: LSU -7.5
A middle-of-the-road Big Ten team is getting barely more than a touchdown from a solid SEC team? We're not asking the secretary. This makes no sense at all. Have you seen Big Ten games this year? It's the best football you can possibly watch if you're a huge fan of "third and four from their own 30-yard-line." I should point out here that the girl I'm seeing graduated from Iowa, and I'm still picking LSU. Even secretary rules fail from time to time.
LSU 34, Iowa 20
January 1: Rose Bowl, Michigan State (12-1) vs. Stanford (11-2)
Line: Stanford -4.5
The secretary would pick the team with the better record. The football fan would point out that 4.5 points is an awful lot given these two teams have two of the best defenses in the country. And the degenerate gambler would think, "You should totally bet the under – these are two grind-it-out, run the ball and stop the run kind of teams." So the smart gambler would bet the over, because that's what happens in these type of bowl games that seem so easy. By the way, the over is 43. Blow as much money as you want on New Year's Eve trying to get laid, then get it all back here.
Michigan State 37, Stanford 31
January 1: Fiesta Bowl, Baylor (11-1) vs. Central Florida (11-1)
Line: Baylor -17.5
The only game I saw Baylor play this year was when my beloved Oklahoma State Cowboys beat them down in Stillwater. That put them in position to win the Big 12 and play UCF in the Fiesta Bowl, and then…well, we'll talk about that later, if I'm ready to discuss that game yet. I need to go get drunk and sob into one of my orange sweatshirts. I've never seen Central Florida's football team play a single down in my 34 years on this Earth. Waco, Texas is a shithole, and so is Orlando. If you're wondering why I brought those two cities up, it's because that's where these two respective schools are located. You didn't know that, which is why you should don't bet on this game. Seriously. Nobody cares. It's Baylor-Central Florida. I don't care if it's a "BCS bowl." Again, it's Baylor versus Central Florida. F— it, take the points.
Baylor 49, Central Florida 34
January 2: Sugar Bowl, Alabama (11-1) vs. Oklahoma (10-2)
Line: Alabama -15.5
Oklahoma is not a good football team. I know they beat Oklahoma State, but the refs screwed OSU a couple of times and Oklahoma State is just cursed. It's not fair. I'm already  a Jets fan, which is bad enough. I blame Brian Kelly (see Part I for that explanation) and my ex-fiancee. Mostly the latter; at least Kelly got $4 million a year for being a snake.
The fact that Oklahoma beat Oklahoma State was fitting, given that it was the 25th anniversary of the 1988 Bedlam game, when OU beat OSU despite the fact that Oklahoma State had Barry Sanders and Thurman Thomas in the same goddamn backfield. I watched the game in a bar in Chicago with three other people; when OU scored the winning touchdown I went to the bathroom, and came back to see four shots of whiskey lined up. But, trust me, Oklahoma is getting stomped. I wish it would make me feel better. Goddamn it all to hell.
Alabama 28, Oklahoma 0
January 3: Orange Bowl, Clemson (10-2) vs. Ohio State (12-1)
Line: Ohio State -2.5
The fun thing about this game is you can spend the whole game chanting, "Over-rated!" and be right the whole time. Who will do the best job of giving this game away? It's hard to predict. The secretary picks Ohio State, because she has no idea where Clemson is.
Ohio State 31, Clemson 21
January 3: Cotton Bowl, Oklahoma State (10-2) vs. Missouri (11-2)
Line: Missouri -1.5
The irony of Oklahoma State losing Bedlam is that OSU actually got a much more interesting bowl game. Instead of playing Central Florida in Arizona, we're playing a former Big 12 rival in Dallas. That doesn't make up for losing that Oklahoma game, though, or spending two days masochistically sorting through my Facebook feed listening to OU fans crow about winning for the ninth time in ten years. Thank God I was in Chicago that night, because if I was in Oklahoma I'd have thrown some punches. And probably gotten my ass kicked: we may call OU fans pussies, but an Oklahoma pussy will beat the shit out of a Wrigleyville tough guy.
As for this game, Oklahoma State will probably win. That will be enough to put OSU in the top ten or fifteen in the preseason rankings next year, high enough that we look at our schedule and think, "Hey, it's a four-team playoff! We got a chance!" And then OSU will be 8-0 and lose at home against Texas Tech. I'm done watching sports. The secretary has the right idea. She probably spends time with her grandchildren and "Murder, She Wrote" always has a happy ending. Meanwhile, we'll beat Missouri and I'll just be thinking about losing on the road to West Virginia and at home to Oklahoma. Damn it all to hell.
Oklahoma State 38, Missouri 35
January 4: BBVA Compass Bowl, Houston (8-4) vs. Vanderbilt (8-4)
Line: Vanderbilt -2.5
Have you been to Houston?
Vanderbilt 31, Houston 27
January 5: GoDaddy Bowl, Ball State (10-2) vs. Arkansas State (7-5)
Line: Ball State -9.5
Seriously? It seems like the NCAA is just trolling us now. The only reason to watch this is to see Danica Patrick and some other smoking hot chick get half-naked in a GoDaddy commercial. But you can do that online. And there's two NFL playoff games this day. If you bet on this game, you have a serious, serious problem. That might be the only reason this game even exists.
Ball State 35, Arkansas State 24
January 6: BCS Title Game, Florida State (13-0) vs. Auburn (12-1)
Line: Florida State -8.5
The secretary would pick Auburn because that's the name of the hair dye she uses. But this is the national title game, and it's too important to let the secretary decide. On the one hand, Florida State has been truly amazing. Maybe the ACC is not a strong conference, but Florida State's two closest wins came by 14 and 27 points, respectively. That's "NCAA Football on Playstation on easy mode" kind of numbers. Auburn, meanwhile, should have lost to Georgia, could have lost to Alabama, and did lose to LSU.
And, for all the people criticizing Florida State's schedule, here are Auburn's ten wins besides Georgia and Alabama: Washington State (by 7), Arkansas State, Ole Miss (by 8 at home), Western Carolina, at Texas A&M (when the defense gave up 41 points), Florida Atlantic, Arkansas, Tennessee, Missouri.
Let's be honest, Auburn is four plays away from being 9-4 and playing in the whogivesashit.com Bowl in Birmingham. Meanwhile, Florida State has been utterly dominant, and they likely have the best defense Auburn has seen all year.
And, most importantly, my cousin went to Florida State.
Comments