Max Silver: An Annual Review Audio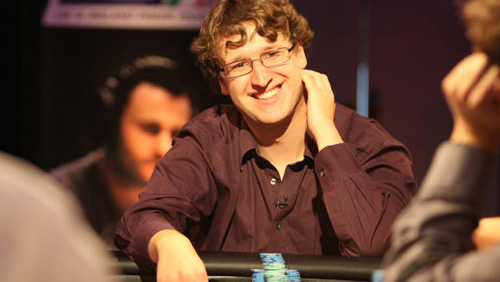 Poker can be a deceitful little bitch. Take Max Silver, for example. In 2013, Silver earned over $460,000, finished the year fifth in the UK Global Poker Index (GPI) rankings, and earned a sixth place finish at European Poker Tour (EPT) Prague.
Now that's what you call a cracking little result, and yet that's not how Silver feels about what was very nearly his Annus Horribilis.
"I had one of the roughest years I thought I could ever have in poker. I very nearly ended the year in the red, but managed to have a pretty good comeback in the end."
Silver's great escape included a $97,132 runner-up spot in the £2k United Kingdom & Ireland Poker Tour (UKIPT) High Roller in London, a $33,383 victory in the £2k UKIPT Isle of Man High Roller, and a $219,530 sixth place finish at the EPT Prague main event.
Little wander then that Silver says he doesn't set himself poker goals because, 'there are so many things that I can't control.'
"It's really tough to play through a bad year. In poker, when you are not winning money it's tough – but to be losing it at the same time. It's one of the toughest things to face in any job. At times I found it really hard, but I held it together."
Without those three strong performances things could have been very different for Silver. What would happen if poker was not a viable way to make money?
"I did a little bit of work on the side, but in the main my income came from poker. I am very careful with my bankroll, so I was never at risk…it was just a bad year.
"I am young enough to be able to do anything I want. So if I wasn't playing poker I would like to open up a restaurant, or even go to university."
What was the highlight of the year off the felt?
"I got engaged at the start of the year, so that was my main goal for 2013. In 2014, I will be getting married in Dublin, and so far the arrangements are going pretty smoothly."
What about the honeymoon?
"So far that's a work in progress, although we are thinking of the Aussie Millions in Jan 2015."
That's my boy. Taking his future wife to a poker tournament for his honeymoon. Quintessentially British.
"She also works in the poker industry – in marketing – which is incredibly important because she understands the game, realizes that when I win it's not always an awesome day, and when I lose it's not the end of the world, and that with a lot of hard work you can get it back."
So what next for Silver?
"I want to be a little bit more careful with my bankroll. So I'm not going to play so big and take fewer risks. I aim to be more focused and always trying to play my A game."
Comments