If we were going to create our own poker movie then Fabrice Soulier would be right up there as a potential candidate for the leading male. His name rolls off your tongue like silk having sex, he could charm the knickers off the queen, and has this air about him that makes you want to punch him in the face for being far too good looking.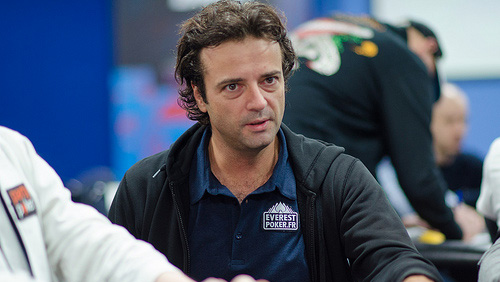 Yet, in 2013, the suave and sophisticated Frenchman has, on times, looked a little weary and irritable. When you are standing third in the all-time French money list behind Bertrand Grospellier and David Benyamine; and are married to the delicious Claire Renault, then you have a lot going for you. But poker is a bitch and can suck that shit dry.
"In terms of poker, 2013 was a tough year for me. It contains just one highlight and that's the final table of the WSOPE. It was a huge moment for me, because the rest of the year was very bad when it came to playing poker, but I traveled a lot and saw a lot of good places so I can't complain."
After earning a six-figure income each year since 2005, was the downswing in 2013 a result of poor play or simply variance.
"It was a combination of both. The worse you run – the worse you play; they eventually merge into the same thing"
So WSOPE apart – where he finished runner-up to Adrian Mateos Diaz for a $824,513 score – it was annus horribilis when it came to poker, but what about life outside the dirty green baize?
"I have some pretty good news coming, probably a little baby coming, so that's great news."
Now that's what I call setting and achieving a goal…that's if it was planned of course.
"It was planned."
So looking ahead to the future what is going to be Soulier's main focus in 2014?
"France and the World Cup in Brazil…we need to score some goals. This is the main goal. I travel to Brazil a lot so I was very keen for France to get to the World Cup. I have a little place there, by the beach, and I am very happy that France are there and really want them to do well."
So is Soulier a goals orientated person in general?
"I try but it's hard. In the last WSOPE I wanted to make a nice cash and hit a nice final table, so I suppose I set myself a goal…but I also had a goal at the WSOP in the summer and lost the lot, so it's important to have goals, but they don't always work out as you plan."
Check out other Annual Reviews here.