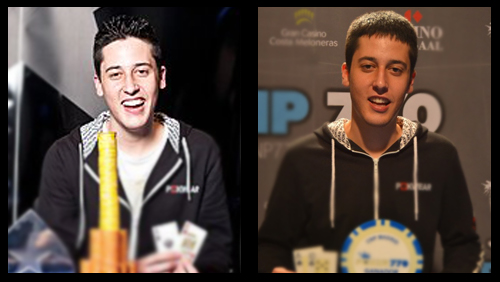 World Series of Poker Europe (WSOPE) has marched onto the fourth day of action and it's the Spaniard Adrian Diaz who has the chip lead with just 24-players remaining in the fight for the gold bracelet and €1m in prize money.
Cast your mind back to yesterday and Dominik Nitsche was headlining all of the poker news outlets as he led the final 69-players on the voyage of the €1m in prize money.
Nitsche's search for a second WSOP bracelet was not the only hot headline as the charismatic Canadian, Daniel Negreanu, was also in the field trying valiantly to overcome Matthew Ashton at the top of the WSOP Player of the Year (POY) leader board.
As the day drew to a close; one of them would still have their dreams in tact, whilst the other one had to take a much smaller chunk of change as they bowed out of the tournament.
Let's find out what happened in the recap of Day Three.
Level 13: Jaka and Buchanan Are Eliminated
It was a quick day for Faraz Jaka after he was eliminated in the first 10-hands of the competition. The entrepreneur turned poker pro hitting top pair on a king high board only to fall onto the sword of Hans Martin Vogt's pocket aces.
Sam Holden doubled through Benny Spindler in what would be a roller coaster of a ride for the young Brit. It was AK v QQ and an ace on the flop doing the business. Then a few hands later he was eliminating Nicolas Levi JJ v AQ; the Frenchman hitting an ace on the flop to smack a smile under that fedora, until a jack on the river sent him tumbling out of the competition.
Vogt was at it again, and this time Shawn Buchanan was his victim. The money went into the mixer on [Qc] [8c] [2c], with Vogt once again holding pocket aces (both black) and Buchanan holding ace-queen. A fourth club on the turn handing Vogt the flush and the dangerous Canadian was out.
Talking about dangerous Canadians.
Daniel Negreanu doubled up through Kim Sok. The money going in on the turn in a three-bet pot with Negreanu hitting a set of fives on fourth street, to overturn a hand that Sok's pocket queens seemed to have sewn up.
Level 14: Ludovic Lacay Takes The Chip Lead
 European Poker Tour (EPT) Champion, Ludovic Lacay, is a man on form after his runner-up appearance in Event #6: €3,250 Mixed-Max Pot-Limit Omaha (PLO) just a few days ago, and he has brought that momentum into this contest. Lacay taking the chip lead after eliminating Gereon Sowa: AT v A2 all-in pre flop.
That chip lead was made possible because Dominik Nitsche lost a chunk of change in an all-in and call against Marcin Wydrowski. Pocket tens for the German, pocket kings for the Pole and that's about all she wrote.
In a battle of the Brits we saw Mark Teltscher double up Sam Holden: AJ v 33 with the treys walking through the minefield of the flop, turn and river without getting blown to pieces, and Sergio Aido eliminated David Peters in that classic AA v KK showdown you here people bemoan so much about.
Level 15: Nitsche, Shorr and Guenan in Big Hands
As the money bubble loomed large, Dominik Nitsche laid waste to the top talent of Aaron Lim: QQ v JJ; Shannon Shorr won a crucial flip to send James Dempsey out of the contest (77 v AK); and Flavian Guenan escaped the bubble by the skin of his pearly whites when his pocket queens dodged death against the pocket kings of Benny Spindler after the board produced a third lady.
Level 16: James Alexander Bursts the Bubble
The bubble would burst 65-minutes after hand-for-hand play commenced and it was James Alexander receiving the obligatory round of applause.
The short stacked Alexander making a move with pocket nines and Scott Clements called, and hit, with ace-jack to send Alexander home with nothing.
Yann Dion busted after firing three barrels into Nitsche with an absolute air ball, after check-raising the flop and proceeding to pound the turn and move all-in on the river with [7d] [5s] on [Ad] [9s] [6d] [Th] [7c]. The German defense stood strong with [Ah] [9h] for two pair and Nitsche was developing another monster stack.
Wydrowski bowed out to Mark Teltscher in a flip AK v JJ, and Negreanu found that fortune favored the brave when he bust Todd Terry 99 v KK when a nine found its way to the river.
Level 17: Jeremy Ausmus Surges and Adrian Diaz Surfaces
Ariel Celestino eliminated the November Niner Jay Farber when the pair got it in JT v A7cc. Both players missed the board and so Celestino's ace high was good enough to send Farber to the rail.
Event #4 winner Jeremy Ausmus doubled through Nitsche AK v AQ, after spiking a king on the turn, before taking out the former World Poker Tour (WPT) champion Giacomo Fundaro 88 v 55.
Then Adrian Diaz rose towards the top end of the chip counts with a series of big pots including the elimination of Scott Clements, after getting it in bad A8 v AJ, but hit trips on the turn to eliminate Clements in unfortunate circumstances.
Then Sam Holden's ride came to an unceremonious stop when his little stack found itself being defended by [Qc] [5h] in an all-in and call with Jerome Huge and [Ah] [8h]. The prettier hand held and Holden was out.
Level 18: Daniel Negreanu is Out; Diaz Leads
The final level of the evening would see Daniel Negreanu bow out in 25th place in an all-in and call versus Ogjnen Sekularac. It was KT for Negreanu and AK for Sekularac, and five cards later Negreanu was out, as Jack Effel called a halt to proceedings with Adrian Diaz leading the final 24-players with just over a million chips.
Top Five Chip Counts
1st – Adrian Diaz – 1,066,000
2nd – Daniel Steinberg – 1,009,000
3rd – Ivan Tikhov – 809,000
4th – Dominik Nitsche – 768,000
5th – Fabrice Soulier – 756,000
Check out World Series of Poker Europe Day 2 Recap.