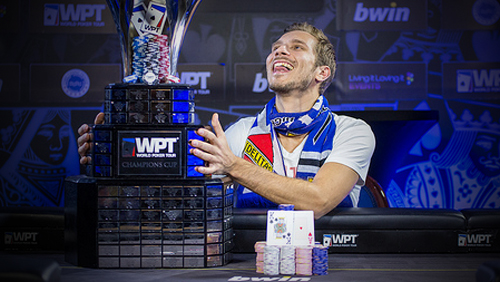 Live tournament updates finishes its 2013 round-up with another German victory, in a major live tournament final, after Julian Thomas defeats Vasili Firsau to take down the bwin World Poker Tour (WPT) Main Event in Prague.
Coming from the UK I am all too familiar with German dominance. In 1990 I sat with tears streaming down my face, after Germany had eliminated my beloved England from the Semi-Finals of the World Cup, after Chris Waddle and Stuart Pearce fluffed their lines.
Then in 1996 the saline slithered once more as they went and did it again. Only this time it was much worse, because it was on our own soil, in a competition the nation believed we were going to win.
I believe the English national football team has a mental block when it comes to playing Germany in a major tournament final, one that means they are defeated before they even begin. Of course, this is not the only reason that England always stutter when Germany shine; this nation has a winning mentality – a driven desire to succeed like no other European country can match.
So when Julian Thomas entered the final table of the bwin World Poker Tour (WPT) Prague I guess I should have picked him out as a potential winner, and yet I overlooked him completely, instead hedging my bets on the likes of Andrey Shatilov, Ognjen Sekularac and Vasili Firsau.
There was a time during the bubble phase when the German was hanging on for dear life. He was handling one of the shortest stacks in the room, and every decision he made was going to be fatal or fortuitous. He moved in on several occasions, but never got any takers, and eventually he squeezed into the money – but it was tight.
He finished the day on 186,500 chips, which was good for an 18th spot, and by the end of Day 3 Thomas had just 211,000 chips, quite a way behind Ognjen Sekularac in first place who was sitting on 1,322,000 chips.
So when the penultimate day of action began all eyes were on Thomas to be amongst the first to fall. Instead, Thomas increased his stack to a peak of 1.5m chips; in the same amount of time it takes Germany to dismantle the English on a football pitch.
If there were a man of the match award for Day 4 then Julian Thomas would have won it hands down. So why did I continue to ignore him when it came to my pick for the title?
When working at these events you get a feel for who you believe will win. A feeling that's not based on skill alone, and actually has more to do with how well a person is running. When someone is running well they look happy, and this creates more luck. I see it all the time.
With this in mind I was sure that Vasili Firsau would avenge that outrageous defeat against Mohsin Charania in the final of the WPT Grand Prix de Paris. The Belarusian looked happy, measured, had all the chips and was picking his spots wisely. There was nobody who was going to stop him from winning this one.
Ognjen Sekularac is one of my favorite players on the tour. He looks like he could crush a paving stone between his bare hands, but comes across so polite, honest and charming. Sekularac is the type of player who doesn't wait for spots, he tries to create them, and this worked against him at the final table.
Everything he did was shot down in flames. Every three-bet was met with a four-bet, and every four-bet was met by the words, 'all-in' and he never, ever had it. In the end frustration got the better of him and he met his demise against Vasili Firsau in a hand that he will be thinking about for a very long time.
Sekularac limped on the button and both blinds called. The flop was [Qd] [8d] [6h] and Sekularac c-bet for 60,000 and only Firsau called. The turn card was the [8s], and Firsau led for 105,000; Sekularac called. The river was the [Ah], and Firsau led for the second time when he made it 255,000, Sekularac moved all-in with zero fold equity and Firsau made the call. The Belarusian was holding [8h] [7h] for trips and Sekularac was forced to show [7c] [4c] before leaving the tournament.
"Unlucky, Ogi." I said to him as he passed me.
The big man just smiled and said, "Lucky? I was stupid," shook my hand, wished me a happy holiday and walked out into the cold brisk air.
After the table rock Gintaras Simaitis crumbled in fourth place we were left with Andrey Shatilov (1.3m), Thomas (3.1m) and Firsau (3.6m). At this point I still thought Firsau would take the title and felt whoever got Shatilov's chips would have a big advantage going into heads-up.
Then a moment that Thomas will remember for the rest of his life. A tournament winning moment.
Thomas peeled back his cards to see pocket aces. He placed them onto the felt and opened the button with a raise. Andrey Shatilov moved all-in for 1.3m and the butterflies started to spread their wings from within the gut of the German.
"I'm all-in." Said Firsau.
Suddenly, the butterflies are flying everywhere as Thomas makes the easiest – and quickest – call of his life. Firsau turns over pocket jacks, Shatilov has [Qh] [Th] and five community cards later, Shatilov was out and Thomas had all of the chips.
It took just two hands for the heads-up action to end. Firsau doubling up in the first hand [Qc] [4d] v [Ac] [8c] after rivering the diamond flush; and Thomas sealing the deal after his AK stayed strong against the heat of QTs to pick up the title that I never thought he would ever lift.
So that's a wrap for live tournament updates in 2013. A year that saw the Americans to continue to dominate the Global Poker Index (GPI) Top 300, the Canadians dominate the World Series of Poker (WSOP) in the summer, and Germany continuing to flex their winning DNA with a monumental series of high profile tournament victories.
I simply cannot wait for what 2014 will bring, a year that I will NOT be betting against the Germans.