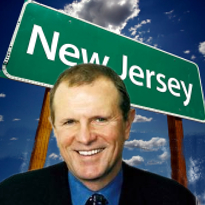 New Jersey Sen. Raymond Lesniak's plan to turn the state into a global gambling hub is gaining some legs, or at the very least, enough traction to compel the senator to introduce a proposed legislation calling for the Garden State to, in the words of Christina Thakor-Rankin, essentially turn into the Gambling State.
As part of Lesniak's proposal, international gambling companies looking to secure licenses to operate around the world could get their paperwork in order in New Jersey, or to be more specific, inside the confines of Atlantic City. Doing so would allow these companies to set up facilities in the AC on its way to offering online gambling to their existing client base throughout the world. Lesniak initially agreed to have these companies set up shop anywhere in the state, but a suggestion made by his college, Sen. Jim Whelan, prompted the Lesminator to make tweaks in his own proposal to accommodate Whelan's point.
Speaking with the Press of Atlantic City, Whelan made the point that having these international firms base their operations in Atlantic City would avoid any potential constitutional issues, on top of making it easier for these firms to locate themselves in a city where casino gambling is already legal.
According to Lesniak, international gambling companies are warm to the idea of locating business operations in New Jersey, highlighting the state's stability and security, not to mention the fact that it's leaders will welcome these businesses with open arms, possibly even throw a Jersey Shore-type party for them.
Atlantic City, specifically, offers these companies a chance to establish their roots in a place with deep-seated ties to casino gambling, declining revenues notwithstanding. "The Atlantic City casino industry is well regulated and highly respected, which gives us an advantage," Lesniak added.
"We can capitalize on our strengths and attract business to build and invest in our state. We shouldn't allow these opportunities to migrate overseas to other countries."
Still and all, the senator understands that such a move would be met with challenges from the get-go and he's under no illusion that the process would go on without so much of a hiccup, much less cries of dissent from those opposed to his proposal. But the allure is simply to enticing to ignore, especially in a state whose casino industry is essentially gone to the toilet.
Having these companies on local soil would not only generate revenue for the state, but would also serve as an employment stimulus, something another fellow state senator – Jeff Van Drew – said would be a huge boost to the floundering economy of Atlantic City.
"High tech jobs are necessary, and the more we have in the region and Atlantic City, the better," the senator said, as quoted by the Press of AC.
A lot of the lawmakers in the state seem to be on the same page as Lesniak. The question now is: how many people will follow New Jersey's gambling Pied Piper to see that his proposed legislation comes to fruition.
Comments