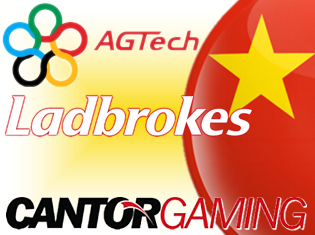 Chinese lottery sales reached RMB 251.6b (US $41.3b) in the first 10 months of 2013, a rise of 19.2% over the same period last year according to figures issued this week by the Ministry of Finance. Welfare lottery sales rose 16.6% to RMB 143.5b while sports lottery sales experienced an even greater bump, growing 22.9% to RMB 108b. This growth continues to accelerate, as figures for the month of October show combined sales up 26.2%. The officials counting all this bounty said the gains were due to factors like extra outlets for online lottery games and the addition of new lottery products.
Speaking of, the leading provider of sports lottery products in China announced the official launch of a new offering on Thursday. Virtual Football aka Electronic Ball Lottery is the latest product from Asia Gaming Technologies (AGT), the joint venture of AGTech Holdings Ltd. and UK betting operator Ladbrokes. The new product received the blessing of Chinese regulators in October and has now gone live in Jiangsu province in conjunction with the Jiangsu Sports Lottery Administration Center (SLAC). AGT already offers the popular Lucky Racing virtual Formula 1 fixed-odds sports betting product in China.
Ladbrokes isn't the only western betting firm making inroads into China's lottery market. This week saw Nevada sportsbook operator Cantor Gaming plant its flag in the northern Chinese city of Tianjin via the launch of the new 80k-square-foot Cantor Club. The club, which allows its guests to play lottery games and mah jong, is a co-venture with the Tianjin Welfare Lottery Club and Beijing-based lottery venture investor Global Entertainment Investment & Management Co. Ltd. Cantor will provide the Club's technology, systems and lottery infrastructure, and just like customers who visit Cantor's eight Las Vegas sportsbooks, Cantor Club customers can place their lottery wagers using an account-based system.