I love bumping into Barny Boatman when I'm on the poker tour. He's like a little puzzle. When you look at him you just know he has lived an incredibly interesting life. I try to prod and poke as much as I can. I yearn for his tales and his stories. But Barny Boatman is a private man. Poker is poker, but there is so much more going on in Barny's life…well at least I think there is.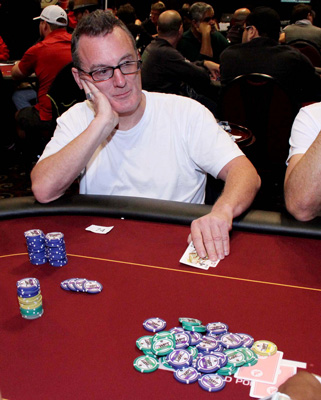 I managed to grab a few moments of his time as he prowled the tables looking for a game in South Africa. Once again I tried to peel back a layer hoping that a tear would roll down my face and this is how far I got this time.
I asked him if he was going to play more events after the cash injection he received with his recent World Series of Poker (WSOP) win?
"I am not playing a great many events these days. Instead I like to pick and choose my events, and there is a lot of appeal in choosing a place like South Africa. It's an exciting part of the world, and the people here look after you.
"It's not so much the Vegas win that has changed things for me, but the Hendon Mob sale and not having a sponsorship deal anymore. I do have a lot more time and freedom to do what I please at the moment."
And moving on to the sale of the Hendon Mob.
"We did a deal that was good for everyone. We loved the Hendon Mob website. We built it up from a one-page fanzine into the largest live tournament database in the world, and during that time we accidentally became businessman. I didn't get into poker to be a businessman, but it was a great thing. The deal came along at a good time for us. We had just finished our deal with Genting, and not a lot of people know this but running the site costs a lot of money, and if we were to carry on we would have to think quite carefully about how we were going to fund it."
The look of the site has already started to change under the stewardship of Alex Dreyfus.
"Alex has the resources, the energy and the technical know how; and him and his team are working on making it even bigger than it is. It's good to see the legacy continue and the site get bigger and better. There was a danger that if we had carried on that it could have petered out, and not reached the heights that it should do and I think we would have regretted that."
Did the team ever consider adding a fifth member at anytime?
"It wasn't a made up thing. We were who we were. We were the Hendon Mob before there was a Hendon Mob website, although that is what a lot of people know us for. We were all mates and it doesn't matter how much time we spend together, we are family and always will be."
So what does Barny do when he isn't searching for the value?
"I'm doing a bit of writing and I have always taken an interest in the world around me. I try to follow current affairs, movies and art. I love having the lifestyle that enables me to travel the world and meet people. I get the time to follow my interests and that's wonderful."
"I find it very hard to concentrate and finish projects. I have a few things that are working their way to completion. Over the years I have done a bit of journalism and writing. Twitter is a great outlet for me, I can usually muster 140 characters."
When I was a kid my mother used to throw her knickers at the TV every time Barny's brother Ross appeared on the TV drama London's Burning. What was it like growing up with a famous TV star as a brother?
"You have to remember we weren't that close in age so there wasn't that kind of rivalry between us that may have been there had we been closer in age. Ross was my kid brother and I used to go and watch his school plays and would encourage him. We would do things like practice accents together and things like that. He's a great actor and I wish he would do more of it. I am always very proud of the fact that it never changed him. He was a great role model in that respect, and everyone could learn from him on how to be genuine in the face of a lot of success. He enjoyed that time and I was very happy for him. I saw a side of life I might not have seen if he had not done what he did."
Does Boatman have a bucket list or does he just take life as it comes?
"There are things that I want to do and things I haven't done. Something's are in your control and some things aren't, and some things I want to happen may never happen. I am concentrating a lot on spending more time on the people who matter to me. I'm very fortunate that I am able to do that."
And what about the rest of the Hendon Mob. What are they up to these days?
"Joe is very busy with the Betting Emporium, Ross is spending more time with his acting. He has got himself very fit and lost a lot of weight. Ram is doing what Ram does best and is pretty successful at the moment. The bloke is unbelievable. I am sure he is still one of the most talented poker players around if he could sustain the interest. Nobody in the world has better card sense than he does."
What does Barny's life look like outside of poker? Who surrounds him in life?
"Look, I am not on Facebook and the reason I am not is precisely because I don't understand why people want to put their whole private life out there. I have a side to me that is very private. I have a lot of family and friends that matter to me. A lot of kids are very important to me, I don't have any of my own, which is probably not the way things should have happened but they did. I have a lot of nephews, nieces and Godchildren and I really enjoy their company. I also have a lot of friends that are all grown up that I knew when they were kids.
"I have about 50 people call me Uncle Barny these days, am that makes me happy."