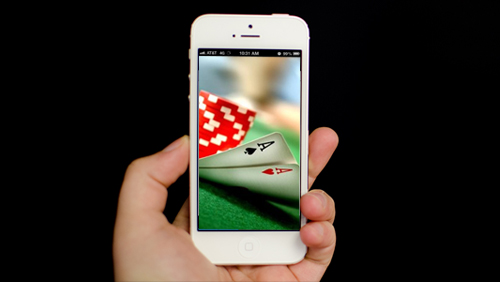 Let's be brutally honest here…poker is boring.
When Doyle Brunson announced his decision to quit the World Series of Poker (WSOP) this year, it wasn't anything to do with his age, the man was just bored to tears.
The one thing the armchair poker fan never gets to see is the amount of time the pros spend observing the game. They don't. Period. So next time you are reading a poker article offering you advice on how you should study the game, ignore it. It's a lie.
Instead, they fill their time by poking and prodding their iPhone all day. So what exactly are they prodding and poking?
Here are nine indispensable types of iPhone apps that every poker player simply must own, if they want to keep those eyelids open and have run out of matchsticks.
1. XE
Although some professional poker players are oblivious to this fact, there really isn't a money tree in your father's back yard. He lied to you. Instead, you have to earn more money than you spend, so keeping costs down is important.
One of the major leaks in any poker player's game is his ability to lose value on the exchange rates. Players should avoid these bastards at all costs, and instead should try and make all of of their transactions between members of the poker community.
XE.com is the perfect app for instantly managing exchange rates before you slide those manky bills under the table.
2. Mobile Banking Apps
Poker players are always borrowing money from other players, and shock-horror, sometimes they don't pay it back either.
One way to keep on top of your list of IOU's is to make instant cash transactions via bank transfer by using your own personal banking app. Not only do you get your money transferred instantly, but you can also use the app to do all of your banking irrespective of where you are in the world.
3. Chinese Poker
Live tournament poker is so boring, that the degenerates of the game often multi-table with their electronic devices.
The most common game by far is Chinese Poker and the 'Chinese Open Face Poker' app by Pocket Cowboys seems to be a particular favorite.
If you want to mingle with the 'it' crowd then you need to learn how to lose money at this game, and the free play app mode is the best way to do this.
4. Music Streaming Apps
I know it will come as a bit of a shock to you, but headphones are not just a fashion statement. Apparently, players use them to send music to their ears from their iPhone.
Everyone has a grinding play list and the more adventurous among us prefer the randomness of the streaming apps. If the latter falls within your territory then try out apps such as MOG, Spotify, Pandora Radio, Songza and Slacker Radio (No relation to Sam Grafton btw).
5. Google Translate
If you are American or British then you have a problem traversing the global poker scene as we are the only two countries in the world who believe we are so superior that we don't have to learn a second language.
The bilingual amongst us have an edge, particularly when it comes to banter at the table. This is where Google Translate comes in handy. Pop in your phrase or sentence and lo and behold the little wizard translates it for you.
There is also an added bonus where you can enter foul language and then laugh to yourself as a Stephen Hawking type voice replays it. Priceless.
6. Eat, Drink and Play
It sucks balls when you are eliminated from the competition, but assuming you are in Paris and not Luton, there is a silver lining as you now have time on your hands to explore the city.
Where to go?
Apps such as Trip Advisor, Yelp and Urban Spoon are just a selection of apps that can provide you with guidance on the best places to visit in the city. These apps can save you an absolute fortune, by eliminating those dodgy eateries with simple star ratings.
7. Facebook/Twitter
All poker players have huge egos and so it's important to massage them by providing updates on Facebook and Twitter as often as possible (well as often as they win as possible).
They also double as excellent voyeur porn should you get a little lonely in your hotel room after you have busted.
8. My Stack
My Stack is the nifty invention from the team at PokerNews that allows players to update their stack in real time. This is a critical component of live reporting and is a product that is well overdue.
If you are a fortunate, or important enough, to get your name into the chip counts, then do the writers a favor and keep your count accurate with the use of this app.
9. Checking Out the Competition
It's great for strategic purposes if the players know what levels of quality they are facing before diverting their attention to their iPhone.
This is where the Global Poker Index (GPI) helps you out with the GPI app. You can check out your opponent's statistics and learn whether you should fear the triple merge wotsit, or just continue typing 'bastard sucks titties' into your Google Translator.
Two other resources that will get apps out into stores in the future will no doubt be Hendon Mob and Ranking Hero. Both amazing sites for getting the lowdown on your opponent.