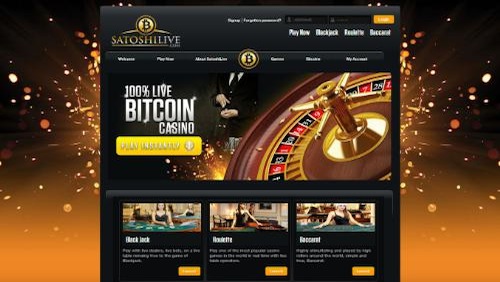 You knew the time was coming when online gambling would be hitching its lot on the growing popularity of Bitcoins. We've already seen a few of them go live, including Just-Dice.com, which had a player on quite an incredible roll a few weeks ago.
It has always been a question of 'when', but now, we have our answer. Satoshi Live, the world's first fully live Bitcoin casino, has been launched, breaking new ground in the process that will ultimately lead to more sites like this opening up in the near future.
Satoshilive.com is set to pioneer the live online casino realms with live dealers that can be seen in real time, on camera. Players can play a multitude of casino games, including blackjack, roulette and baccarat, all of which are now available in a real-time gaming atmosphere that uses Bitcoins for its transactions.
The Satoshi Live platform offers a truly one-of-a-kind (at least for now) experience for its gamers, allowing them to deposit with Bitcoins, play the live games using Bitcoins, win or lose with Bitcoins, and withdraw (if they win) with Bitcoins. It's Bitcoins all day, any day at Satoshi Live and the best part is, at least according to the game's developers, the environment is "100% secure, 100% hassle-free and 100% fair to everyone".
In some ways, Satoshi Live can be described as a pioneer in fostering the growth of online gambling that exclusively uses Bitcoins for its transactions. It was what a lot of people foresaw the moment the crypto currency exploded in popularity.
But while it was all talk and conjecture back then, Satoshi Live's launch proved that all that hype and promise of a Bitcoin-exclusive online gambling platform was far closer to reality than a lot of us anticipated.