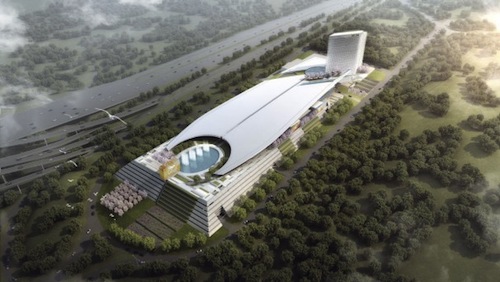 MGM Resorts International is apparently confident enough that it will secure a casino license in Maryland that it went ahead and rolled out its plans on what it will do with that license.
Earlier this week, MGM pulled the covers off of grandiose first-class resort destination in National Harbor, a sign that's going full steam ahead with its intention to be the latest casino operator to open shop in the state.
The company's plans are extravagant and the proposed design certainly speaks to the company's ambitious plans for its National Harbor casino. Original plans called for the casino to have at least 4,000 slot machines and 250 table games, to go with a luxury hotel and various dining, retail, and entertainment options.
Lorenzo Creighton, president of MGM Resorts National Harbor, compared MGM's National Harbor proposal to its Las Vegas resort with the former coming with its fair share of "great quality rooms, spas, great entertainment, and the complete MGM mix". It's design for the project, which incidentally will sit on top of a 1,600-foot-long pedestal overlooking the water, draws inspiration from Pierre L'Enfant's original plan for the layout of what is now Washington, D.C.
"Knowing our resort will be the first representation of Maryland many visitors see crossing the Woodrow Wilson Bridge, we designed something striking and beautiful, respectful of the opportunity to create an iconic gateway to Maryland," MGM Resorts Chairman and CEO Jim Murren said in a statement.
But before the company can throw out a party over their admittedly incredible proposal, there's that matter of actually securing the sixth casino license from the state commission, not to mention warding off competition from Greenwood Racing and Penn National Gaming, the two other companies that have also submitted their casino plans to the state.
Despite the potential stumbling blocks that stand in MGM's way, the casino operator is non-plussed by the threats and is confident that it will secure that coveted sixth casino license in Maryland and the 8,000 permanent jobs it is expected to create for residents of the state.